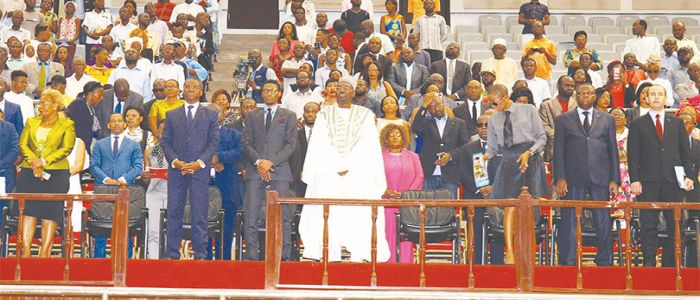 An ecumenical thanks giving service for the former Indomitable Lions captain took place yesterday April 4, 2017 in Yaounde
"Ijust want to say thank you…" The song by Jacques Greg Belobo and Mabel Fa opened the ecumenical service yesterday April 4, 2017 in honour of the former Indomitable Lions captain, Rigobert Song Bahanag at the Yaounde Sports Complex.
The service was offered by friends and sympathisers of Rigobert Song Bahanag to give thanks to God for saving his life after he suffered a stroke in October 2016. The ecumenical service brought together six men of God. It was a moment of intense prayers, worship and thanks to God for His grace and mercy upon the life of the former Indomitable Lion.
Cheick Oumarou Mallam began the prayer session with the reading of an excerpt from the Holy Koran. He thanked Allah for the life of Song Bahanag and prayed for peace and stability in the country. The men of God gave thanks to God and prayed that God should give Song Bahanag more days on earth. The Archbishop of Yaounde, Mgr. Jean Mbarga, prayed for God's grace and protection on Song Bahanag. He said Song Bahanag has brought victories to Cameroon but his recovery from a stroke was the greatest victory. He prayed the Song Bahanag should be the ambassador of all those suffering from cardiovascular diseases in Cameroon.
In a speech read by a relative of Song Bahanag, the former Indomitable Lions captain thanked God for miraculously healing him from his illness. He thanked the Head of State President Paul Biya and wife Mrs Chantal Biya for their immense support. He equally thanked friends, relatives, fans and the Cameroonian public in general for their love and concern. Rigobert Song promised to visit the people of the North West and South West Regions of Cameroon in the days ahead. The ecumenical service took place in the presence of members of government, officials of the Centre Region and other invitees.
Same category