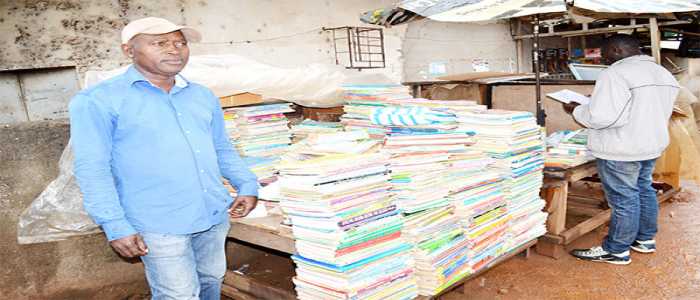 Some pupils and students will benefit from old school uniforms and books from family relatives and friends.
As preparations for the 2016/2017 school year heightens in various homes, so too is the exchange of school items amongst family members. Right now, it is common to notice that in most families, those moving to superior classes are handing down their old books and other didactic materials to the younger ones. This, according to most parents is of upmost benefit to the family's school budget as they will not spend money buying books and other school needs that could be collected from other members in the family.
The exchange of school needs is vivid amongst school pupils of the Agape Family Ministry in Yaounde. Those moving to nursery two are handing their school books to those getting into nursery one. One of the teachers in the ministry, Grace E explained that the institution functions like a family and the exchange of school items amongst pupils is automatic. That is why books are carefully handled during the course of the school year since they will be handed down to younger pupils. Besides school books, other didactic materials such as school uniforms and shoes are carefully sorted out and given to those with the appropriate sizes.
Ma Evelyn Fole in Yaounde told Cameroon Tribune that the exchange of didactic material amongst her children have greatly helped in reducing expenditure on books. As such her daughter going to Form Four was able to handover most of her text books to her younger brother who us going to Form Three. Besides books, Ma Fole explained that she was able to exchange her daughter's school uniforms with a trader of second-hand school items. In this regards Ma Fole says she was able to get second-hand shoes and bags in return.
When parents are not able to get all the school needs of their children within exchange amongst family members, they are quick to turn to second-hand markets for such items. That is why at the moment, makeshifts of second-hand school items have sprout in most markets in the nation's capital. It is within this backdrop that most parents say they are vigilant when it comes to buying second-hand school items for their children because some of such at times might be stolen items.
Same category