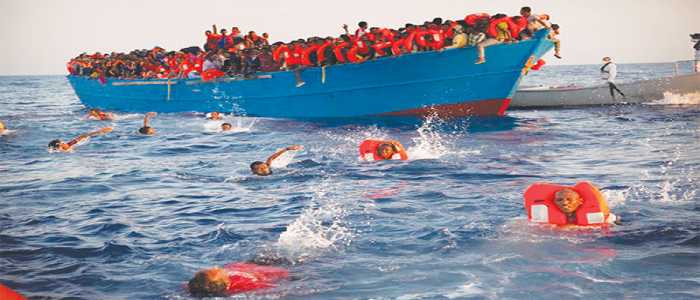 The migrants were mostly from West Africa and Horn of Africa.
Vessels from Italian Coastguards, humanitarian organizations such as Proactiva Open Arms and Medecins Sans Frontieres (MSF) and the European Union border Agency Frontex over the past few days in 40 operations rescued about 6,500 migrants who left the Libyan coast bound for Europe, Daily Nation reported.
BBC reported that some 40 co-ordinated rescue missions took place about 20km off the Libyan town of Sabratha. The migrants had set off in overcrowded and unseaworthy vessels with enough fuel to reach waiting rescuers. Reports say the vessels are often flimsy and overcrowded while some of the migrants set off in such poor health that even if the crossing is calm they cannot survive a day at sea.
"The command centre coordinated 40 rescue operations" that included vessels from Italy, humanitarian organisations as well as the EU's border agency Frontex, saving 6,500 migrants, the coastguard reportedly wrote on Twitter. "We've been particularly busy today," a spokesman for the Italian coastguard is quoted as saying.
The International Organisation for Migration (IOM) says a total of 112,500 people have arrived in Italy so far this year while 2,726 other have died in the attempt. IOM further says there are further 275,000 migrants in Libya waiting to travel. About 284,000 migrants have entered Europe. Daily Nation reported that more than 13,000 people were rescued in under a week at the end of May, and 8,300 more at the start of August. Reports further say more than 3,000 migrants have died at sea while trying to reach either Greece or Italy since the start of this year, an increase of some 50 per cent on the same period in 2015.
Same category