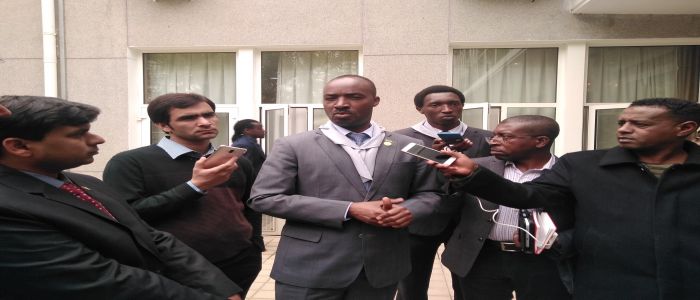 Scores of Rwandans and diplomats attended the event in Beijing on April 7, 2017.
Beginning on April 7, 1994 and lasting 100 days, over a million Rwandan Tutsis and moderate Hutus were massacred in an unprecedented genocide committed by soldiers and militia loyal to late President Juvenal Habyramana. Habyramana, an ethnic Hutu, was killed in a plane crash in the capital, Kigali, on April 6, 1994, thereby providing an immediate fillip to the pogrom.
To commemorate the 23rd anniversary of the genocide, the Rwandan Embassy in China on April 7, 2017, organised a ceremony in the capital, Beijing. With the theme, "Remember The Genocide Against The Tutsi. Fight Genocide Ideology, Build On Our Progress," the event was attended by the Rwandan community in China and diplomats. Rwandan Ambassador, Charles Kayonga, said this year's theme was appropriate in the face of "revisionist" propaganda to confuse the world as to what actually happened.
"We have the responsibility to share our experience for the world to know and avoid what happened to us," he noted. He said though the colonial masters divided the people along ethnic lines, if post-independence leaders had fostered unity, genocide would not have taken place. "It is time to remember the dead, honour those who fought the killers and praise the survivors for their forgiveness and doggedness to succeed in life," Ambassador Kayonga stated. He commended the international community and the Chinese government for standing by the Rwandan government to stabilize the nation.
Some 23 years on, the country has known accelerated development and is contributing to peacekeeping efforts elsewhere in the world, the Ambassador pointed out. "The lesson learnt from the massacres is that though Rwanda was totally destroyed, it did not become a failed State. Instead, it has resurrected, thanks to the foresight, right vision and resources put in place by the government to overcome challenges. Our hope is that Rwandans will continue to surmount their difficulties with greater foresight," he concluded.
Earlier, the Dean of African diplomats in China, Chadian Ambassador, Soungui Ahmed, congratulated Rwandans for stabilizing and reconciling their country, which is the key to development. "Commemorating the event is to soothe the people's hearts and not to dwell on the past. Stopping the spread of genocide or hate ideology is the responsibility of every government," Ambassador Soungui counseled. He added that the transition by Rwanda from the chaotic aftermath of the genocide to a respectable State today gives hope to many nations in crisis.
Same category