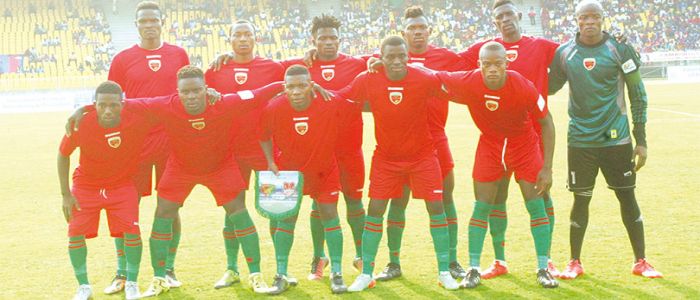 A meeting to seek solutions to the problems facing the two clubs took place in Yaounde on April 10, 2017.
For several months the two main Yaounde based clubs, Canon and Tonnerre Kalara Clubs have been facing some crisis of division with rival factions claiming to be at the helm of management. In order to put an end to the situation, the Minister of Sports and Physical Education, Bidoung Mkpatt, held two separate meetings with the officials of Canon and Tonnerre on April 10, 2017.
The first meeting was on the crisis plaguing Canon Yaounde. Present at the meeting were the leaders of the two rival factions of Canon notably Mve Emmanuel, President of the Board of Directors Canon, on the one hand, and on the other hand, Ateba Yene Laurent, the Board Chair of Canon Saos. After a heated debate among the officials on which side has the legal right to manage Canon, Minister Bidoung Mkpatt called for a consensus and an understanding in the team. The President of the Cameroon Professional Football League, General Pierre Semengue called on leaders of the two factions, Mve Emmanuel and Ateba Yene, to sign a protocol agreement by midnight yesterday April 11, 2017. Concerning Canon's participation in the ninth playing day of the National First Division Championship, General Semengue supported the idea that Canon Yaounde will play the match against Racing Bafoussam in Yaounde billed for today on condition that they conform to the terms of the protocol agreement later.
In the case of Tonnerre, Minister Bidoung Mkpatt equally prescribed a consensus and understanding in the club. He equally called on the different factions to put aside personal interests for the good of football. An emergency committee was put in place to propose definite solutions in order to avoid a possible forfeiture of Tonnerre Kalara Club this season. The committee which will be headed by the Secretary General of the Ministry of Sports and Physical Education, Dr. Oumarou Tado, has seven days to listen, examine and propose solutions so as to put an end to crisis for Tonnerre Kalara club of Yaounde and Canon Yaounde.

Réactions:
Mve Emmanuel: « Des raisons d'être optimiste »
PCA Canon.
« La Ligue tente de trouver une porte de sortie. C'est déjà quelque chose de positif et je crois que la Ligue et la Fédération camerounaise de football prendront le relai du ministre des Sports et de l'Education physique pour aplanir les derniers points d'achoppement qui pourraient séparer les parties. Je crois qu'il y a des raisons d'être optimiste. »

Roger Ebode Tabi: « Le Canon est une famille »
DG. Faction Laurent Ateba Yene
« Ce que je retiens pour le moment, c'est que sans convention, le Canon ne joue pas. C'est la décision du président de la Ligue qui a insisté sur cela.
Nous n'avons jamais refusé de signer la convention. Le Canon est une famille. Qu'on signe la convention et c'est tout. »

Same category