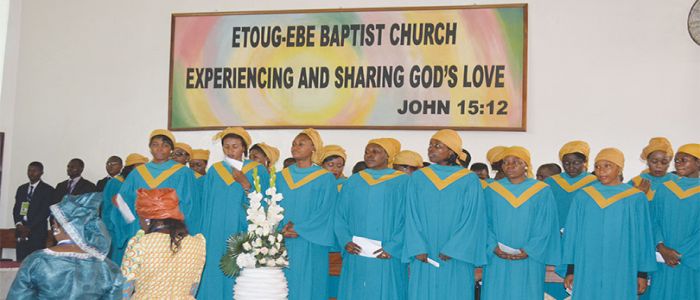 Christians at Etoug-Ebe Baptist Church celebrated the resurrection of Jesus Christ with a deeper meaning of the risen Christ.
On Easter morning, Christians of the Etoug-Ebe Baptist Church in Yaounde, moved around their neighbourhood as early as 5:00 a.m, to announce to the world that Jesus Christ is Alive, He is not Dead! During a special church service to celebrate the resurrection of Jesus Christ, on Easter Day, yesterday, April 16, 2017, Etoug-Ebe Baptist Christians also prayed that many will come to the saving knowledge of Jesus Christ. The over three-hours church service was graced with songs of praise and worship to the risen Jesus Christ.
Drawing inspiration from the Gospel according to John 6:44-65, the officiating Pastor Hilarious Tanjong, termed his sermon "The Revealed Christ of Easter". Pastor Hilarious Tanjong told the congregation that Easter reveals the person of Christ to the world as the "Bread of Life" in which He said in the book of John 6 from verses 50, 50, 53 and 28 that, whoever eats the "Bread of Life", will have eternal life. Through Easter, Jesus Christ also revealed the process of salvation, in which He is the Son of God who came to give his life for mankind and that whoever believes in Him shall have eternal life. Pastor Tanjong also noted that Easter tells Christians how Jesus Christ has revealed the power of salvation, which can never be destroyed once obtained. The officiating Pastor used the occasion to appeal to Christians to come to Christ because He is the Son of God who gave his life for the sins of the world and that if you belief in Him, you will have everlasting salvation. According to him, without Jesus Christ, there is no one else to go to for eternal life...but only Jesus who is Christ, the Son of the living God.
Before Easter Day, Christians of Etoug-Ebe Baptist Church had a passion week titled "Passion/suffering of Christ, Hope for Our Salvation". It was a week for Christians to learn about the suffering of Christ, why He suffered and the importance of the suffering of Christ. It was also a week for Christians to tell others about Jesus Christ.

Same category