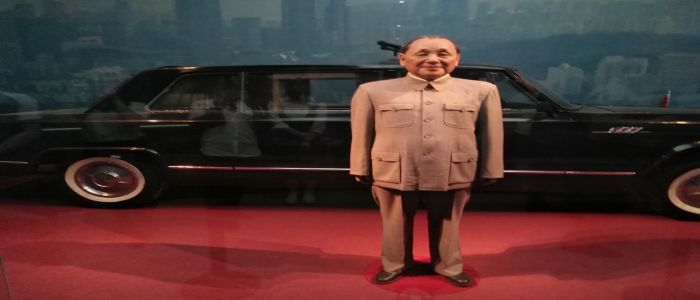 It tells the story of the Chinese city's rise from poverty to industrialisation in just over 36 years.
The story of Shenzhen's meteoric rise to modernism is summarised in the Shenzhen Museum of History and Folk Culture. Located in southern China's Guangdong Province, Shenzhen was a very poor rural fishing settlement of 30,000 people until 36 years ago. With a population today of 20 million people in the Shenzhen Special Economic Zone, the city owes its unprecedented growth and prosperity to Deng Xiaoping, the late Chinese leader who introduced reform and opening up to the world. Today, Shenzhen is one of the most industrialised cities in China, and boasts the third largest seaport in the world.
This transformation is revisited through exhibitions in the Shenzhen Museum of History and Folk Culture, which is free to the public. A guide told Cameroon Tribune on April 16, 2017 that over 10,000 people visit the museum every day to learn and see the history of the evolution of Shenzhen. During the Chinese Spring Festival that holds in January, the number of visitors rises to 20,000, the guide disclosed. Visitors are presented enlarged pictures, collections, writings, official correspondence and "relics" of the different stages of the transformation of Bao'an County into a modern, highly industrialised city today.
Life-size pictures and video projections are presented of Chinese officials, Chairman Deng Xiaoping and the common people who toiled day and night to transform their settlement. So also are books, newspaper excerpts, speeches and work tools used in constructing the new city and industrial zone. The official car used by Deng Xiaoping with his bust planted in front and all the contents of the apartment he slept in during a visit to Shenzhen while construction was going on, are on display.
Not left out are maxims used by officials to urge the people to work harder such as: "Time is money and efficiency is life" and "Empty talking will lead the country astray, while hard work can rejuvenate the nation." There are also samples of old, obsolete vehicles and electronic appliances, including mobile phones – many of them still is use in Cameroon today – to show the various stages of Shenzhen's technological advancement. At the end of the breathtaking tour, the visitor has a good grasp of the history of the evolution of Shenzhen – having listened, seen, felt and touched its transformation.
Same category