Bamenda Unitary Walk Sets The Tone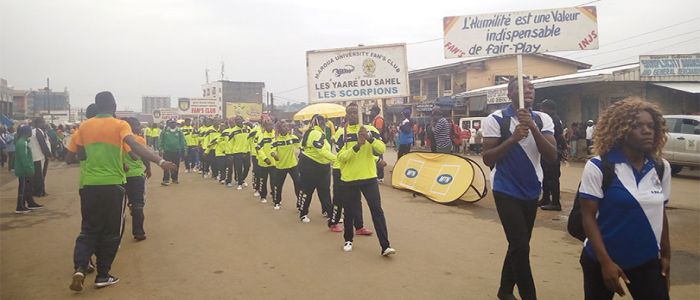 Conceived to commune with the population ahead of the university games, athletes and officials were on the streets of Bamenda on April 22,2017.
The Minister of Higher Education, Prof Jacques Fame Ndongo, Sports and Physical Education Minister, Pierre Ismael Bidoung Mpkatt, Governor Adolphe Lele L'Afrique, athletes and officials of higher institutions of learning participating at the 20th edition of the University Games were on the streets of Bamenda on the early hours of April 22, 2017.
The event was the unitary walk scheduled to commune with the population of Bamenda ahead of the university games proper. The walk along the Commercial Avenue also showcased song and dance by fan clubs of the respective delegations that are currently competing for medals and animating the games at various play grounds in the Bambili campus of the university. The speech-free walk also showcased literature on banners stressing peace, fraternity and a spirit of fair play during the games.
The event also stressed the theme of the games which inspire the promotion of talent for national development and unity for the development of Cameroon. A marathon race in honour of North West athletes who often excel during the Mount Cameroon Race of Hope took athletes across the streets of Bamenda to the Upstation neighborhood and back featured prominent on the agenda of the event.
Same category