FENASU 2017: University of Bamenda Impresses At Opener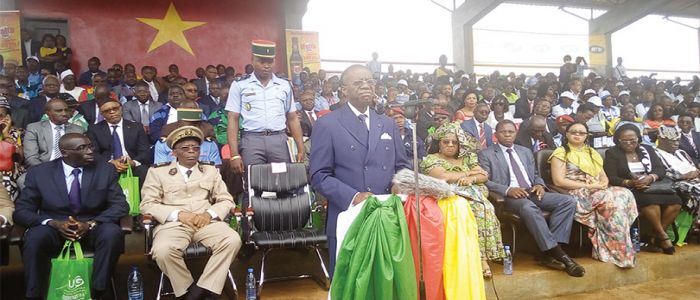 Minister Jacques Fame Ndongo salutes Republican challenge of the University of Bamenda to host the games.
Respect for Olympic ideals is the password of the 20th edition of the University Games that started in Bamenda -Bambili on April 22, 2017 with the Minister of Higher Education Prof. Jacques Fame Ndongo challenging athletes to go for the best in the hunt for medals in an atmosphere of peace and unity for Cameroon to emerge. The hoisting of the games flag and lighting of the Olympic flame set the tone for the games conceived to promote talents for national development and unity of the nation. It was a rare moment for the university to sound off as the host in very challenging moments.
The Vice Chancellor Prof. Nkuo Akenji Theresa acknowledged that it was a challenge for the barely five-year-old university, yet it was not a mistake because the games came with massive infrastructural initiative for the University of the Future. She saluted the government and all who stood by the university in times like this. It was against this backdrop that the Minister of Higher Education, Prof Jacques Fame Ndongo, recognised the Republican challenge by the administration of the North West leadership of the University of Bamenda.
The visibly elated Minister greeted the massive presence of the Higher Education family and cheered the University of Bamenda the best in admirable and fantastic infrastructure being put in place. Minister Jacques Fame Ndongo said the games have progressed to include culture, academic and touristic attractions. He revealed that the 20th edition features an academic dimension with students demonstrating scientific, academic and economic talents as well as creativity. Away from purely sports disciplines, the Minister revealed that those who emerge best in the academic exercise will be rewarded. It was also a moment for Minister Jacques Fame Ndongo to stress that the presidential offer of 500,000 laptops to university students will be good this year and urged university authorities to speed up the constitution of biometric list of beneficiaries.
An impressive parade, conceived rehearsed and staged by the University of Bamenda dropped curtains on the launching event of the games which assembled some 2,362 athletes, 164 trainers and 260 officials. The games that run from April 22nd to 29th, 2017 features 11 disciplines and fan clubs offering diverse cultural activities as they sing and dance on respective playgrounds.

Same category