Bamenda: Courageous Youths March Against Ghost Town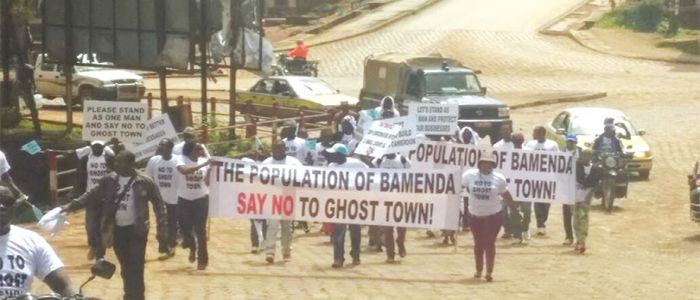 Governor Adolphe Lele L'Afrique appreciated them for such a bold initiative.
Some brave youths from metropolitan Bamenda have marched round the streets of Bamenda to say "No To Ghost Town." The youths from all walks of life marched from Foncha's streets to Mobile Nkwen, Cow Street, SONAC Street, and Commercial Avenue and finally to Up station where they paid a courtesy call on the Governor of the North West Region, Adolph Lele L'Afrique. According to their leader, Tangui Joseph, the ghost town episode is not helping matters as they are forced to sit at home on such days. He acknowledged that the losses incurred on such days are huge. Some of the young people who are involved in petty businesses said with the ghost towns they are unable to pay rents, repay banks loans and some government offices are closed. Taxis and commercial motorbikes do not circulate thus making life very difficult.
Appreciating their decision, the Governor urged them to have confidence in State institutions and work for the good of the community. He assured them of his support saying government will spare no efforts in defending all citizens in the North West Region.
Same category