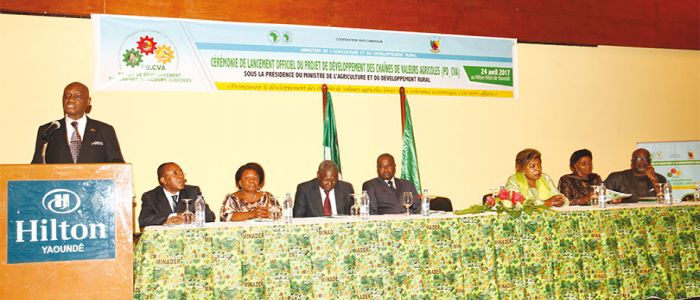 The five-year project worth over FCFA 75 billion and expected to create 6,000 jobs was officially launched Monday by MINADER.
Government has launched another project to scale up agricultural productivity in the country. The Agriculture Value Chain Development Project code named PD-CVA and sponsored by the African Development Bank to the tune of over FCFA 75 billion will create 6,000 jobs for youths and over 24000 indirect jobs.It will improve living conditions and ensure food security.
Launching the project in Yaounde on Monday April 24, 2017, the Minister of Agriculture and Rural Development, Henri Eyebe Ayissi declared government's resolve to steadily pursue its ambition to remain the agricultural giant in the Central African sub-region.
According to the Minister, the project which covers the Centre, South, East, Littoral and South West regions will not only improve the agriculture value chain but will go a long way to create youth employment through involvement in agri-businesses. He also noted that the first-of-its-kind project in Francophone Africa will develop agricultural infrastructure.
Going by Tabi Jackson, PD-CVA Coordinator for the South West region, the five-year project will entail the putting in place of processing facilities, capacity building by the International Institute for Tropical Agriculture, supporting research to derive improved seeds, amongst others. There shall equally be the putting in place of some 1,000km farm-to-market roads.
Mahamat Abakar, PD-CVA National Coordinator has assured youths will have easy access to loans for their ventures in the oil palm, banana/plantain and pineapple sectors. He noted a great part of the project will benefit women.

Same category