University Games 2017: Epic Battle For Medals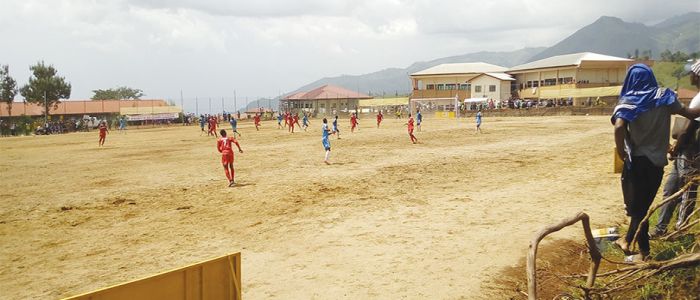 As the 20th edition of the games draw to an end, the race to emerge victorious in encounters has become keener.
Six days into the 20th edition of the university games hosted by the University of Bamenda; the race for medals has become keener. The battle to emerge victorious in encounters has become fiercer in efforts by the respective delegations to position themselves on top of the medal rankings. At press time on Day four action, the National Institute of Youth and Sports (INJS) Yaounde was leading the race with 11 gold medals, 10 silver and two bronze ahead of the University of Douala with 10 gold , six silver, four bronze and the University of Yaounde II, Soa, with nine gold medals, five silver and 11 bronze.
The host, University of Bamenda which so far sounds off with the hitch-free organisation of the games is yet to fetch a gold medal. Their athletes have fetched three silver and three bronze medals so far. It was indeed, another exciting day for the games on day four when Yaounde II, Soa, fetched gold in the ladies 800m race and 4x100 m ladies relay race while INJS raced first in the men's 4x100m relay and 800m men's track event.
North West Governor, Adolphe Lele Lafrique has been crisscrossing respective play grounds to encourage fair play and fraternity as the athletes compete. It was after the exciting men's football encounter between the University of Buea and the Public Works School in Yaounde that Governor Adolphe Lele Lafrique expressed satisfaction. According to the Governor, "It has so far been a communion of all with Cameroon united at the games hosted by the University of Bamenda".

Reactions…
Wirba Mary Grace: "Impressive Performance Of Athletes"
Athlete, University of Bamenda
"We are not only proud as members of the University of Bamenda community hosting the 2017 games, but as an athlete; I rejoice for finishing the 5000m race in the 3rd position. It could have been better but given the circumstances in which the University of Bamenda has been operating, we did not have enough time to train. That is why you see that the games are going on while work on infrastructures is still continuing. I think the University of Bamenda has been at its best and I am also impressed with the performance of athletes from virtually all the delegations"
Emmanuel Yibei Tubuo: "The Level Of The Competition Is High"
Technical official
"So far, the University Games have showcased a lot of fair play by athletes and officials. The athletes have been very tolerant and interacting well. They win and accept defeat in a spirit of sportsmanship. The level of the competition has been very high and I know of three records broken in 200m, 10,000m and long jump. The fact that most Universities have registered a medal is indicative of the keen competitions".


Same category