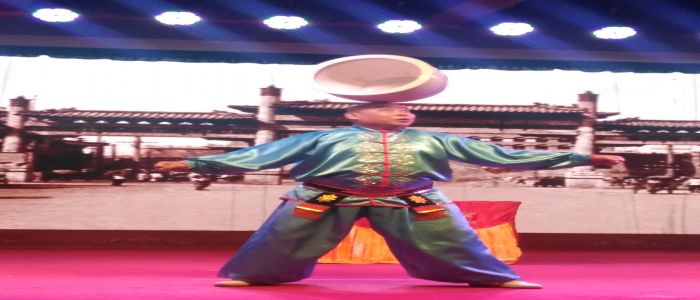 The theatre in the Chinese capital, Beijing, is a favourite destination for performing arts lovers.
The select, near-capacity audience of about 300 sits sipping at famous Chinese teas served in covered porcelain mugs while chewing palace and traditional Beijing snacks. Their eyes are all fixed on the stage where various performers of Chinese music, drama, dance, comedy and Kungfu, take their turns. On the third floor of the famous Lao She Teahouse on West Street, Qianmen, in Xicheng District of the Chinese capital, Beijing, is located this theatre or teahouse.
"Tickets cost from 180 Yuan Renminbi (about 15,700 FCFA) to 580 Yuan Renminbi (about 50,700 FCFA). The closer you sit to the stage, the more expensive it becomes," explains Gao Yuan, a teacher with the Beijing International Chinese Language College who has good understanding of the traditional art culture. Founded in 1988, the privately-owned folk art facility made up of an entertainment hall, art gallery and souvenir shop, was named after Lao She, the late famous Chinese writer, novelist and dramatist. On April 26, 2017, Cameroon Tribune joined 26 African journalists to enjoy Chinese folk arts there.
It all started with a cutely dressed female compere with a model's figure stepping out on to the stage to roll out the evening's programme in Mandarin and English. Then followed a nonpareil variety show beginning with Chinese traditional acrobatics, live, graceful music with local instruments and masked dancers from Sichuan Province. There was also a two-man comic presentation, magic, face changing and puppet shows, and exhilarating Chinese Kungfu displays. The performance of a clean-shaven, thickset man, who rolled 5-kilogramme and 10-kilogramme Chinese porcelain jars on his bare head in different directions as if it were mere plastic, was simply bewitching!
The one and half-hour show kept the audience giggling, cheering and stepping out from time to time to take close-up shots or do videos of the famed artists. According to Chinese folk arts connoisseurs, there about 600 teahouses in Beijing, but Lao She stands out because it was the first modern theatre after the reform and opening up of China in 1978. Several famous world leaders have sat through its performances, including ex-US President George Bush.
Same category