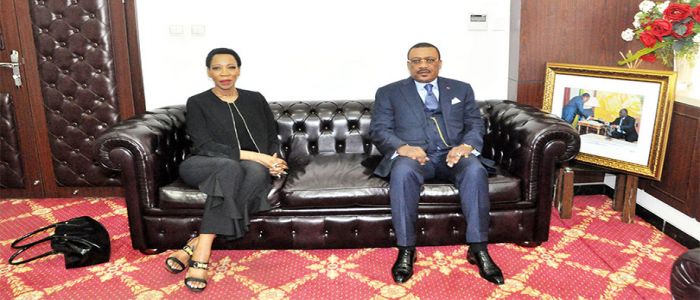 The South African High Commissioner to Cameroon, Zanele Makina, announced the move over the weekend
The Government of South Africa is set to invest in the energy sector in Cameroon, the country's High Commissioner to Cameroon, Zanele Makina has announced. She made the declaration shortly after an audience with the Minister of Water Resources and Energy, Basile Atangana Kouna, Friday April 28, 2017. According to the High Commissioner, South Africa will be partnering with a major Indian company, to boost electricity production as well as transportation through grid in the country.
According to Makina, the investment which will extend to electricity regulation and capacity building is intended to bring closer the economic ties between South Africa and Cameroon. While noting that the energy sector is well established in her home country with electricity having reached almost all rural communities, she said South Africa is a front driver in renewable energy in the continent and will equally be bringing such experience to Cameroon.
At the end of Friday's audience, Minister Atangana Kouna said he was very satisfied because funds for the project were already available. "We engaged a reform in the electricity sector since 2011 on the instructions of the Head of State. From time to time, foreign investors want to come and work with Cameroon and it is in this light that I have been receiving many delegations," the Minister disclosed. He told Cameroon Tribune the Director of Electricity at the Ministry of Water Resources and Energy has already started working with the South African investors to indentify and elaborate particular segments that will be considered for the investment.
It should be recalled South Africa is well advanced in petroleum, natural gas, electricity, coal, nuclear, renewable and alternative fuels as sources of energy.

Same category