North West: CPDM Seminar Stresses Winning Practices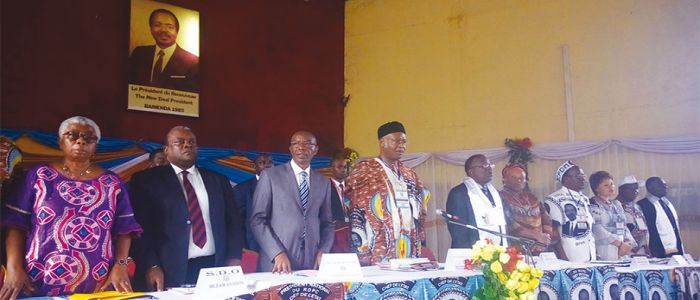 Principles of democracy that help Cameroon to shine and make the country great at Centre of 2nd CPDM Academy seminar in Bamenda.
Veritable teaching and learning in quality political activism was central at the 2ndseminar of the CPDM Academy in Bamenda on May 26, 2017. It was all about, lessons for militants to turn full circle with new dynamics as the way forward for the CPDM to be more convincing, enticing and more attractive in the face of electoral challenges in 2018 and beyond.
The CPDM Regional Permanent team leader for the North West region, Prime Minister Philemon Yang presided at the seminar which featured presentations on; the relationship amongst party organs on the field, functioning of basic party organs, the role of basic party organs, team work and leadership, the role of basic organs and coordination structures of the CPDM ahead of future elections and the CPDM in the face of problems of stability of institutions and national unity. Setting the tone, Philemon Yang said the seminar offers political trainings on new knowledge and new perceptions for militants. He said party chairman, President Paul Biya wanted militants to be masters of their destiny with a new consciousness for the country ahead of the 2018 elections.
Prof. Elvis Ngole Ngole leading the panelists defined roles in the party's field organs and risk factors at the grassroots in view of achieving CPDM objectives. In effect, Dr. shey Peter Mabu enlightened, clarified and cleared doubts on the functions of basic organs which feature as the basis of legitimacy and key to the success of the party. Dr Ahsiri Kilo Technical Adviser in the Ministry of Arts and Culture gave a talk on preparations for future elections focusing on the role of the Basic Organs and coordination structures of the party .
Same category