Chinese Classical Music: Beijing Symphony Orchestra Launches Summer Season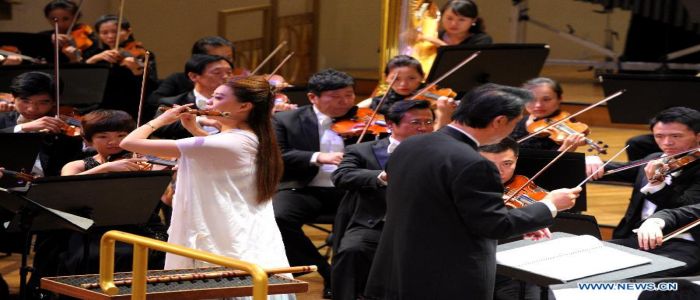 The opening on June 9, 2017 held in a courtyard opposite the Beijing Bird Nest Olympic Stadium.
The 2017 Summer classical music season in the Chinese capital, Beijing, got underway on Friday, June 9, 2017 in the courtyard of the National Indoor Stadium, opposite the Beijing Bird Nest Olympic Stadium in Chaoyang District. It was the first of a series of four-day performances hosted by the Beijing Symphony Orchestra. Known as the Olympic Park Summer Concerts, the opening held in a breezy and oftentimes windy atmosphere, with about 8,000 fans cheering and thumbing up in appreciation of the orchestra conducted by a big name in the art, Tan Lihua.
Wu Bixia, China's most popular high vocalist and unparalleled violinist, Lu Siqing, were simply outstanding in their performances. Compered by famous Chinese Master of Ceremonies, Zhou Tao, the fun-filled evening saw the rendition of 15 popular songs. These included "My country's signature song" and "Jasmine" by Von Suppe, which was performed by Wu Bixia. It is described as "a bedroom song that can bring you nice dreams." The heavy combination of cymbals, drums, trumpets, flutes, violins, etc and the rumbling thunder sound effect in the background and multiple lighting, made the atmosphere more electrifying.
One of the pieces that sent many fans to their feet was "Yellow River" 4th Movement. "It is a nationalist song that was composed during World War II when China was in a very difficult situation," explained Gao Yuan, a teacher with the Beijing International Chinese College. The rendition of "Wo he ni" or "You and me," which opened the 2008 Beijing Olympics, brought back fond memories of the games, with many shedding tears as renowned vocalist, Wang Li, led in the performance. There were also solo performances like "Where is happiness?" and "Na jiu shi wo" or "That's me," which sounded very much like one of Tala Andre Marie's Tchamassi hits.
"Nobody falls asleep tonight" was perhaps more telling of an eventful evening that kept many classical music and opera lovers on the edges of their seats most of the time. The Chinese version of Romeo and Juliet was done by Lu Siqing using a violin worth 6 Million US Dollars (about 3.5 Billion FCFA). With middle row tickets going for 380 Yuan Renminbi (about 32,755 FCFA), it was no doubt a rememberable evening with the accomplished Beijing Symphony Orchestra that had about 100 acts - including some foreigners.
Same category