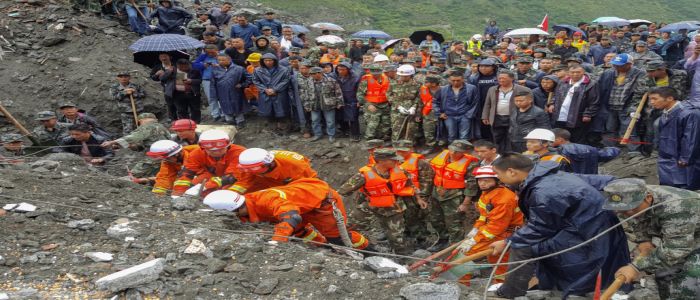 Over 100 people are missing after a mountainside village in Sichuan Province was engulfed by falling rocks on June 24, 2017.
Frantic efforts are underway in China's south-western Sichuan Province to rescue 180 people from Xinmo village in Maoxian County, A'ba Tibetan and Qiang Autonomous Prefecture, still trapped under rubble after a massive landslide covered the area at 6 am on Saturday, June 24, 2017. The disaster was caused by days of heavy rainfall and the lack of vegetation cover on the mountain range, officials said. Neighboring villages have been evacuated to safe areas.
Xiao Yonggang, Deputy Director of the Sichuan Provincial Division for Protocol and Information, told Cameroon Tribune on phone from the provincial capital, Chengdu, yesterday, June 25, 2017, that a couple and their baby were brought out alive while 15 bodies were pulled out. Meanwhile, hope is fast running out for the people still trapped under an estimated 18 million cubic metres of earth and boulders that fell from a mountainside height of 1,600 metres. Some 62 homes were swallowed up by the debris that blocked a 2-km stretch of river, but 142 tourists were found unhurt.
Over 3,000 rescue workers and soldiers using sniffer dogs and heavy-duty earth-moving equipment have been working tirelessly to save those under the mud. State-owned China Global Television Network, CTGN and various China Central Television, CCTV, channels have been showing live footage of the progress of rescue work in the remote mountain village. The chinadaily.com.cn website on June 24 cited President Xi Jinping as ordering the authorities to "make maximum efforts to reduce casualties and prevent secondary disasters." Xi instructed the State Council, China's Cabinet, to send a work team to the site.
Local authorities were directed to take extra precautions against geological disasters in rain-affected areas, including mountains and tourist attractions, the Xinhua news agency reported. A 1932 landslide killed over 1,000 people in the Xinmo area. On May 12, 2008, a deadly earthquake struck most parts of China, killing 69,000 people, with 21,000 others missing. The epicentre was Wenchuan in Sichuan Province. Lixian County that borders A'ba Tibetan and Qiang Autonomous Prefecture, which Cameroon Tribune visited last month, lost 110 people in the earthquake, with 7,322 homes damaged.
Same category