National Economy: Effective Contribution of Biodiversity Explored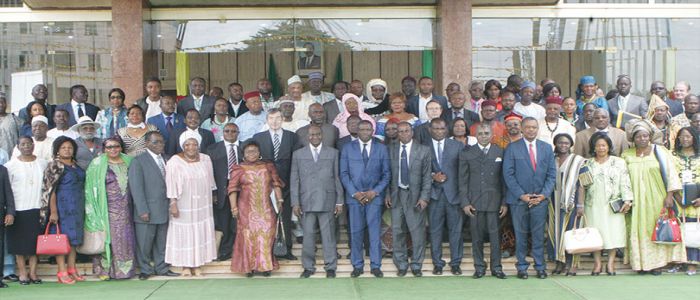 A special two-day plenary sitting on biodiversity system in Cameroon ends at the National Assembly today, July 5, 2017
Cameroon's Senators and Members of the National Assembly will today, July 5, 2017 propose ways of fostering the economic valorization, conservation and sustainable financing of biodiversity conservation actions in the country. This will be at the end of a two-day special plenary sitting at the Ngoa-Ekelle National Assembly Glass Palace that started on July 4, 2017 focused on the parliamentarians contribution in strengthening the legal and harmonious system of biodiversity protection. The plenary sitting is organized by the Cameroon branch of the Network of Parliamentarians for the Sustainable Management of Dense and Humid Forest Ecosystems in Central Africa (REPAR).
For the two days, the present situation and trends of biodiversity in Cameroon have to be presented to the parliamentarians. They will also be informed on biodiversity national strategies and action plan, constraints that hinder the optimum contribution of biodiversity to national economy, ways of financing currently being exploited. The parliamentarians will by this afternoon formulate proposals on strategies to valorize and sustainably finance activities.
The Vice Speaker of the National Assembly, Hon. Kombo Gberi who chaired the opening of the special plenary sitting on behalf of the House Speaker Hon. Cavaye Yeguie Djibril, said the stakes and challenges of biodiversity calls for the commitment of all actors. He lauded the various actions taken by government to ensure biodiversity conservation. However, he said actions on the economic valorization of biodiversity in development strategies and the fight against poverty still need to be perceptible. The Vice Speaker citing the Declaration of the Cancun COP13 summit of last December, said biodiversity now needs to be used as a growth lever and to improve the welfare of the population. In this connection, he called on parliamentarians and other participants to explore in an integrated manner the sustainable valorization of the biodiversity. He said they should consider aspects like sustainable planning, financing, forest management, rationalization of activities impact on the natural environment and valorization of ecotourism.
Same category