Affordable Housing : Africa Seeks Practical Solutions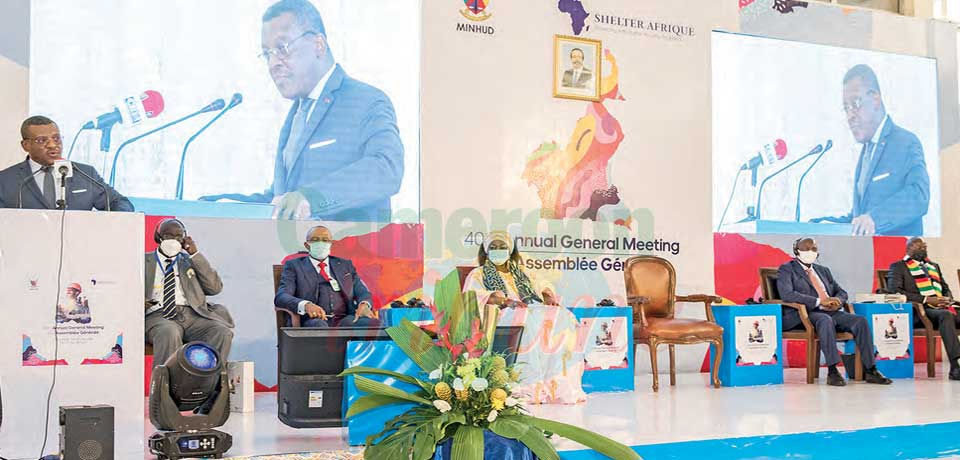 The 40th Annual General Assembly of the company, Shelter Afrique in Yaounde is dedicated to ways of addressing the teething problem of decent and affordable housing in the continent.
Ministers of Finance, Economy and Housing of the 44 member countries of the Pan-African habitat and housing company, Shelter Afrique will at the end of the company's 40th annual general assembly that started in Yaounde, Cameroon on June 21, 2021, map out strategies to address the problem of decent and affordable housing in Africa. The general assembly meeting is taking place on the theme, "Four decades of affordable housing policies in Africa : Mapping the next forty years".
Cameroon's Prime Minister, Head of Government, Joseph Dion Ngute, the personal representative of the Head of State, President Paul Biya chaired the official opening ceremony of the annual general assembly. Addressing officials and participants, he said the holding of the event in Cameroon was the materialisation of the cordial ties and perfect cooperation that exist between Cameroon and Shelter Afrique. He expressed satisfaction at the appointment of Cameroon as the President of the Bureau of the Annual General Assembly for the next one year. Indeed, Cameroon's Minister of Housing and Urban Development, Célestine Ketcha Courtès took over the post of President of the Annual General Assembly from James W. Macharia, Kenya's Minister of Transport, Infrastructure, Housing and Urban Development and Public Works. Talking about Cameroon's benefit from the company, the Prime Minister said that the country adhered to it in 1982 by subscribing to the company's capital. From its subscription of about FCFA 3.2 billion, Cameroon has benefitted approximately FCFA 24 billion in investment with public enterprises such as SIC, MAETUR, Credit Foncier du Cameroun and other private promoters cited. As a solution to the decent and affordable housing problems in the continent, the Prime Minister Dion Ngute proposed the development of public/private partnerships, search for alternative construction methods and the promotion of the production of building materials locally.
The Chi...
Same category