Obituary: Nigeria Awaits Ex-leader Ernest Shonekan's Obsequies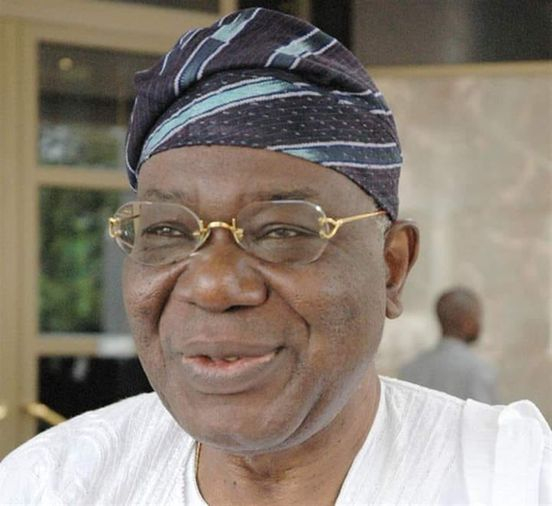 The man who led the country for just three months in 1993 died from natural causes in Lagos on January 11, 2022, aged 85.
After encomiums were poured on his person and legacy last week following the announcement of his passing on, Nigerians are now awaiting a statement from his family on the date of his obsequies. Nigeria's shortest-lived leader, Chief Ernest Shonekan, died of natural causes in a Lagos hospital on Tuesday, January 11, 2022, the family announced.
Shonekan headed the Interim National Government, ING that led Nigeria from August 26, 1993-November 17, 1993. He took over after Gen. Babangida was forced to step down after the annulment of the June 12, 1993 presidential vote that was won by businessman, Chief MKO Abiola.
"We are going on with consultations. Once the picture is clear, we shall make an announcement," Premium Times newspaper cited the first son of the deceased, Adeboye Shonekan, as saying after meeting the Alake of Egbaland, Adedotun Gbadebo. The meeting was to formally present a letter from the Shonekan family announcing his death to the traditional ruler.
'We lost a great son of Egbaland. We lost a great authority in company business, corporate governance. We join the family in mourning the departure of a great man. God used him to maintain peace in the country for 82 days," the Alake commented.
Meanwhile, following the death of Shonekan, the Federal Government last week ordered that flags fly at half-mast from January 12-14, 2022, Vanguard newspaper reported. President Buhari, in a statement described Shonekan as "an internationally-respected statesman with courageous wisdom. Chief Shonekan left his flourishing business career to become the Head of Government at a delicate time when the country needed someone of his calm mien and pedigree to save the ship of state from sinking."
In a condolence letter to Mr Shonekan's widow, Margaret, former President Olusegun Obasanjo described ...
Same category