Electoral Process : Rights Commission, ELECAM Exchange Ideas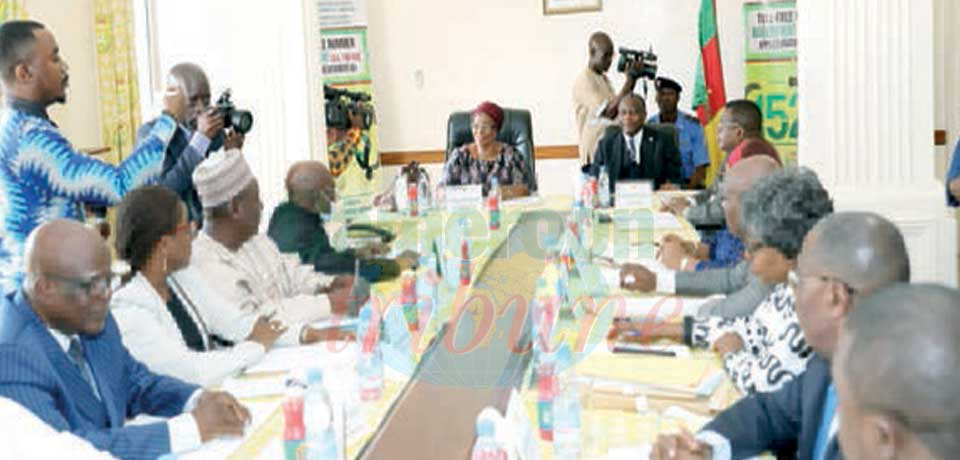 Members of the two institutions yesterday September 22 held talks on enhancing a democratic process.
The Chairperson of Cameroon Human Rights Commission, Prof. James Mouangue Kobila on September 22, 2022 received a delegation of members of Elections Cameroon (ELECAM) led by its Vice Chairperson Appoline Marie Amugu and both parties discussed on strengthening the electoral process in the country. With Cameroon to organise senatorial elections in the first quarter of 2023, ELECAM and the Rights Commission exchanged views on how best the civic liberties of citizens can be respected during the electoral process with the objective of making them more credible, transparent and inclusive.
Speaking to the press after the in-camera discussions, the Vice Chairperson of Elections Cameroon, Appoline Marie Amugu said the goal is to enhance the democratic process of Cameroon which includes guaranteeing a trustworthy electoral process. "We came to the Cameroon Human Rights Commission so that together we can evaluate the electoral process in the country. We are in a year of less political pressure as there are no elections but we have to prepare for upcoming elections in 2023. We exchanged ideas with our partners (referring to the Human Rights Commission) who accompany us on a daily basis for them to give an appraisal of the process, and a strategy for us to improve our performance so that the electoral process can be the most democratic...
Same category