Chantal Biya International Cycling Race : Bdadou Youssef Wins Second Lap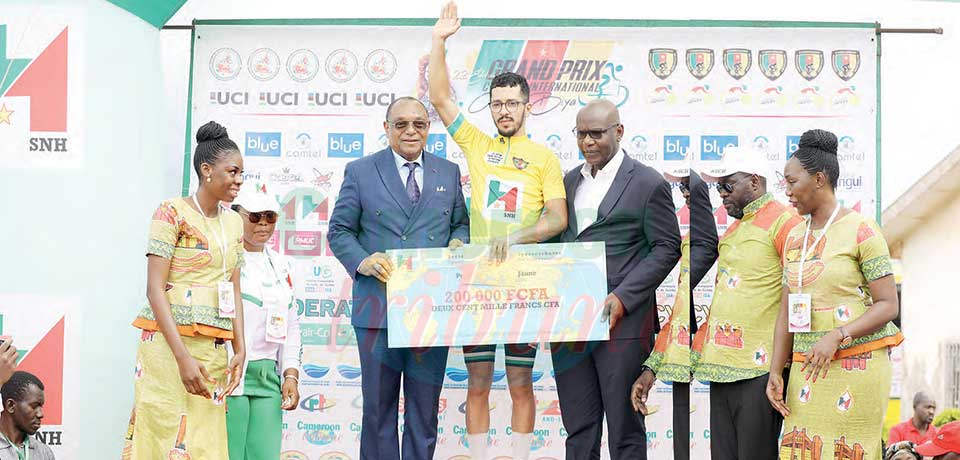 The cyclist from the national cycling team of Morocco yesterday October 5, 2022 in Ngomedzap in the Nyong and So'o Division, won the 86km race in 2h04'02".
Bdadou Youssef of the Moroccan Cycling team is the winner of the second lap of the 22nd edition of the Chantal Biya International Cycling Race that took place yesterday October 5, 2022. The race took place along the Yaounde-Ngomedzap highway over a distance of 86.9km. A total of 58 cyclists were on the start list for the take off at the May 20 Boulevard in Yaounde. The weather was bright and conducive for the sport. The riders rode past villages and towns along the highway.
As they rode past, the populations in these areas came out in their numbers to salute the riders with traditional dance groups. School children temporarily left their classrooms and lined the main road to cheer the riders. It was a tough race as each side was seeking to grab the victory of the day. Shortly after take-off, three cyclists among them Kuere Nounamwe from SNH Velo Club were on the lead. They were however caught up by the peloton. They were ridding at speed of 42.037km/ph. Some five kilometres to the arrival, Kueré Nounawé (SNH) led the race but he was defeated in the final sprint just four kilometres to the finish line. At the end of the lap, Bdadou Youssef was the fastest finishing the race in 2h04'02". Lagab Azzedine from Algeria National Team and Stravers Jarri from Global Cycling Team finished at the same time record.
Even though Mansouri Islam did not win the lap he still maintains the yellow jersey he won on Monday October 3, 2022 in ...
Same category