Indomitable : Lions Focus On Brazil!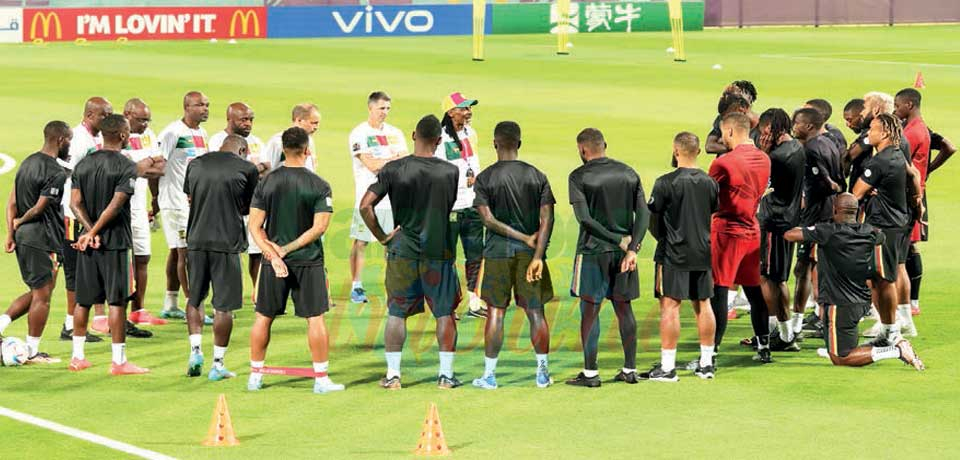 With the euphoria of the post-match draw against Serbia settling, attention has now been turned to tomorrow's defining game against the five-time winners.
Away from the polemics that have surrounded the team since the start of this week, it is now time to focus for the Indomitable Lions as they gear up for Friday's game against Brazil at the Lusail Iconic Stadium. The Lions need to win while hoping results go their way in the other fixture between Serbia and Switzerland. To that effect, the team is back to full training with 25 players present except goalkeeper Andre Onana who has been sent home.
Though yesterday's training session at the Al Sailiya Sports Club held behind closed doors, almost a full team was back on the turf with some work with the ball at their feet. Olivier Ntcham who has been carrying a calf injury since the start of the competition trained fully with the team and confirmed he is ready to get a go if given the opportunity on Friday. On his part, defender Nouhou Tolo who was limping in the dying minutes of last Monday's game against Serbia has shaken off the issue and has been active in all training sessions so far. However, doctors are checking on the fitness of midfielder Martin Hongla who is carrying a sprained ankle from last Monday's game. According to Dr. Joel Gwabap Fotso, the chief medical officer of the team, Martin Hongla sat out the last two training session but is expected to be back in training today.
On the back of that gruelling 3-3 draw against Switzerland, the players were given a three-h...
Same category