Senate : Seventeen Man Bureau Elected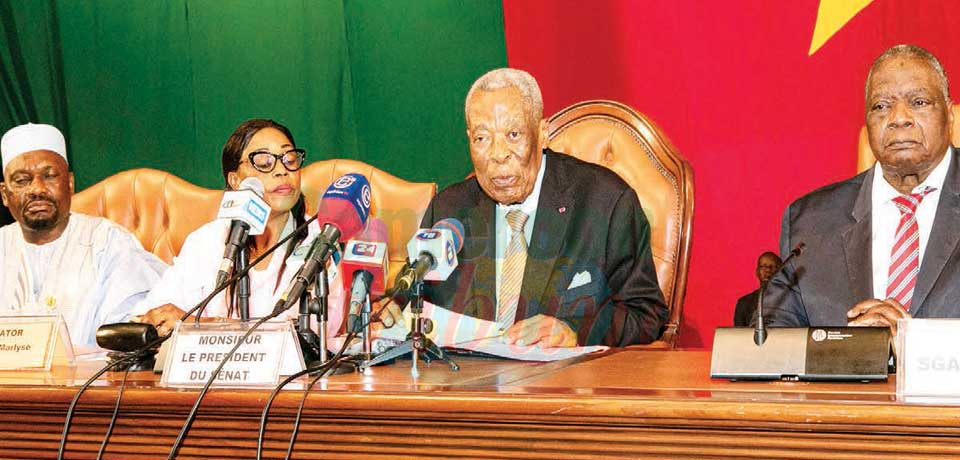 Voted on March 27, 2023, it has five political parties represented.
The bureau of the Senate has been voted. Consisting of 17 persons from five different political parties, it takes over from the provisional bureau that was chaired by the eldest member of the Senate, Isebelle Marie Ndjole Assouho epse Tokpanou, accompanied by two youngest members (Marlyse Aboui of the ANDP and Lekunze Andreas). All seventeen members comprising a President, a Senior Vice President, four Vice Presidents, three Questors and eight Secretaries, were elected during a plenary sitting at the House Chambers on March 27, 2023.
First to be elected was the President of the Senate. The candidate of the Cameroon People's Democratic Movement (CPDM) was proposed by the Parliamentary Group Leader, Senator Oyono Zang Calvin. For the position, Marcel Niat Njifenji was voted with 79 votes out of the 82 persons that voted. There were three blank ballots. The voting of the post of President was presided at by the eldest member and once the President was voted and in accordance with Section 15 (3) of the Standing Orders of the Senate, he presided at the voting of the other members of the bureau. In his appreciation speech, Marcel Niat thanked Senators for the confidence bestowed on his modest personality. He also expressed profound gratitude to the Head of State and National Chairman of the party, Paul Biya for his candidacy. "I will carry out my missions with dignity," he told Senators.
For the position of First Vice President, Aboubakary Abdoulaye was voted by an absolute majority (79 votes in his favour out of 82 votes cast). &nbs...
Same category