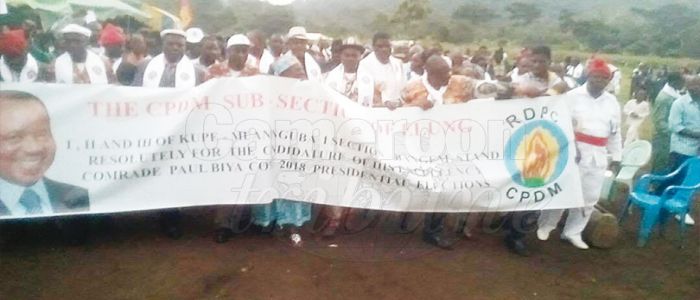 The three sub-sections have called on the National President of the ruling party to be their candidate in the upcoming Presidential election.
CPDM militants, supporters and sympathisers of Elung I, II, and III subsections of Kupe Muanenguba I Section, Bangem in the South West Region have reaffirmed their loyalty and unflinching support to their National President, H.E. Paul Biya, calling on him to be their unique candidate in the 2018 presidential election. This reassurance was made during a joint subsection conference of all the three subsections that took place recently in Muangwekan village under the theme, "the contribution of rural community towards the preservation of peace, security and national unity, for the attainment of emergence by the year 2035."
Speaking during the event, the Chargé de Mission for Kupe Muanenguba Divisional Permanent Delegation, Mbong Michael Mbine, told militants to remain loyal, committed and faithful to State institutions. He said President Paul Biya is the best choice and only person to lead Cameroon to emergence come 2035. He also urged militants and sympathisers of the party as well as kinsmen of Elung clan to be vigilant and guard against perpetrators of secessionist tendencies and the destabilisation of Cameroon which he reiterated, remains one and indivisible nation.
Kupe Muanenguba I Section President, Mesumbe Ambrose Mbukelome who sat in for the President of the CPDM Divisional Permanent Delegation, Prof Elvis Ngolle Ngolle, congratulated the three subsection presidents for the crowd pulling event especially given the current socio-political unrest rocking the North West and South West Regions. He urged them to continue in the spirit of mobilising more supporters, educating them so that the party should remain strong and ready for future elections.


Same category