Chinese Traditional Irrigation System: Lindzhou's 10 Years Of Toilsome Excavation For Water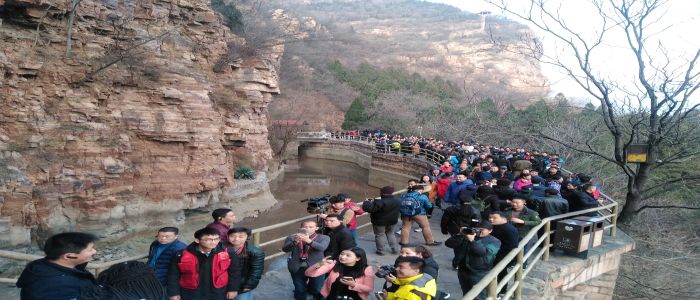 The city in 1970 ended centuries of droughts and famines after hollowing out a 1,500-km canal on the steep, rocky Taihang Mountains.
Lindzhou, a city of 1.1 million people in the northern part of China's Henan Province on the border with Shanxi and Hebei provinces was ridden by droughts and famines for hundreds of years. Five very severe droughts from the 15th to the 17th centuries left locals with no choice but to eat each in order to survive, recalls Qiao Shuling, a local agricultural entrepreneur and development philanthropist. The arid nature of the area where 86 per cent of the land is steep, rocky mountains accounted for the recurrent catastrophes.
Fed up with their recurrent predicament, 100,000 locals in February 1960 decided to change the course of their destiny. Armed with basic digging and stone cutting tools, the men and women scampered up cliffs of the surrounding Taihang Mountains – using chords - and began chiselling out trenches for a canal to divert water from River Zhang to Lindzhou. The perilous toil lasted until 1970 when the people completed a 70.6 km main canal after hollowing out 1,250 hills and creating 134 tunnels totalling 24 km.
With the tributaries added, the 1,500-km man-made, hand-dug waterway was realised and named the Red Flag Canal as a symbol of self accomplishment after the red flag of the Communist Party of China. "The Red Flag Canal produces 25 cubic metres of water per second and 170,000 cubic metres a day," a local official told African and Chinese journalists in Lindzhou on November 29, 2017.
Since the completion of the canal almost 50 years ago, 8.5 billion cubic metres of water have been collected, 5.3 million hectares of land irrigated and grain yields increased by 1.5 billion kg. Lindzhou's Gross Domestic Product in 2016 reached 49.66 billion RMB (4,152 billion FCFA). About 60 million RMB (5 billion FCFA) is earned each year from tourism at the Red Flag Canal scenic spot.
"Before the canal was built, the people always starved, but they now have enough to eat. The main crops grown with canal water are rice, wheat, millet, cotton and maize. The average farming income per family in Lindzhou is the highest amongst Henan Province's small cities," explained Qiao Shuling. He was designated two years ago as heir of the Red Flag Canal Spirit – a reference to attributes of self-help, hard work and devotion - by Yang Gui, the 90-year-old designer of the canal.
Same category