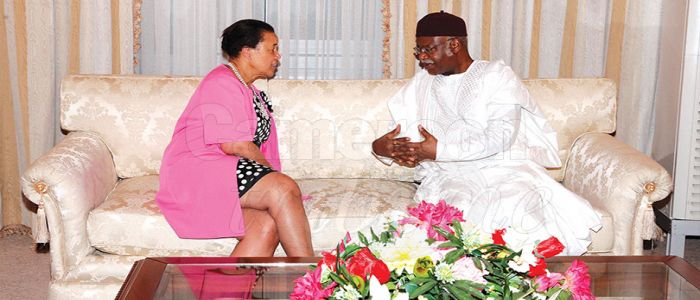 The Secretary General of the Commonwealth was received at the Yaounde Nsimalen International Airport yesterday evening by PM Yang.
It was with an air of anxiety that Cameroonian officials led by the Prime Minister, Head of Government representing the Head of State, President Paul Biya welcomed the Right Honorable, Patricia Scotland QC, Secretary General of the Commonwealth yesterday, December, 18 at the Yaounde Nsimalen International Airport. All that it takes to welcome an august guest of her magnitude was put in place.
The Air France Aircraft transporting the Commonwealth top brass touched down at exactly 6:30pm to a warm welcome at the exit by the Prime Minister, Head of Government, Philemon Yang accompanied by the Minister Delegate at the Ministry of External Relations in Charge of Relations with the Commonwealth, Joseph Dion Ngute and the Minister Counsellor, Charge d'affairs ai in the Cameroon High Commission, London, Tasha Anna Mbur.
Equally present to welcome her were, the Governor of the Centre Region, Naseri Paul Bea, the Senior Divisional Officer for Mfoundi as well as that of the Mefou and Afamba and the Deputy Government Delegate to the Yaounde City Council.
The airport ceremony was not just a simple stop over as one would have expected but an occasion for the visiting official to have an almost one-hour discussion in camera at the VIP lounge before being accompanied to the Hilton down town Yaounde.
The Commonwealth official is visiting Cameroon on the invitation of the Head of State and will have a week-long series of discussions and meetings with various segments of the Cameroonian people including officials, members of the civil society, representatives of political parties, economic operators and the people's representatives.
Patricia Scotland is accompanied by the Deputy Head of Office, Office of the Secretary General, Senyo Agbohlah, Political Officer, Lindiwe Maleleka, and Communication Officer, Ben Maloney.
Same category