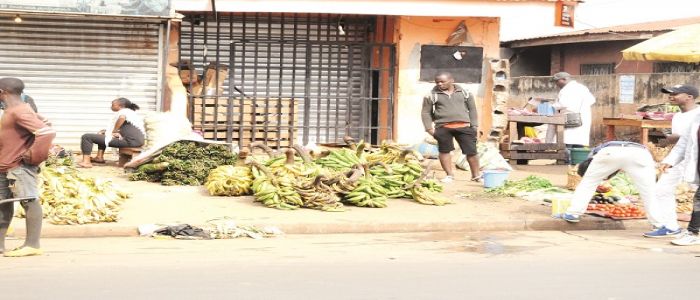 Vendors attended to few buyers on January 2, in the capital city but remained optimistic things will pick up sooner.
The boom in business activities that goes along with the end-of-year festive period ended on New Year Day. So too did the sale of foodstuff register low in some markets across the city of Yaounde which Cameroon Tribune visited yesterday.
At the foodstuff line of the Mvog-Atangana Mballa market, which had been bustling with people in the last two weeks, the scenario was different. For the traders who marked present in the market on January 2, only few randomly had customers while others dozed off, supposedly from the spillover effect of the previous day's enjoyment. Others watched attentively as their wares remained unpurchased or waited to be demanded.
By midday, Michelle, a yam vendor disclosed she had received just ten customers, with only three effectively buying her goods. "I came to the market as early as 6:30am with the hope that I will take advantage of other vendors who shall not come to the market today (January 2) to sell all my yams. However, the day is half gone and I am yet to sell up to half of my stock," the yam seller said, indicating that she had sold just FCFA 6,000 worth of her goods. Other traders Cameroon Tribune accosted, in the like of those selling fresh fish, beef, pork, plantain, chicken, tomatoes, Irish potatoes, and spices said there has been a very sharp contrast between the day before (New Year Day) and yesterday. The number of buyers has dropped.
"During the festive period, I had a very good turnover," Djoumou Cliff, a pork vendor said, adding that he is not bothered by the low sale of January 2 because he believes things will pick up thereafter. In other markets, activities were generally slow as many buyers and sellers did not turn up.
Same category