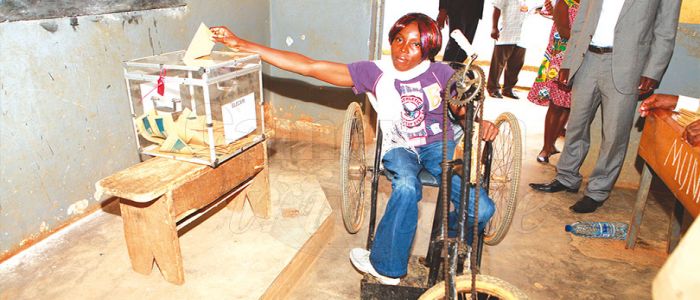 The strategy targets the maximum registration of physically challenged persons and subsequently voting when elections are convened.
The ballot box recognises every vote on equal basis without any considerations to race, gender, ethnicity, and or status. The encouragement and the putting in place of several dispositions to enable physically challenged persons to participate in the electoral affairs of the nation is but a civic responsibility and a mechanism to give them total inclusion in the political, social and cultural activities of the country.
The proximity communication and registration strategy adopted by the elections management body, Elections Cameroon (ELECAM) falls within the framework of giving recognition to physically challenged citizens and eliminating all forms of discrimination against them in the electoral process.
Going by statistics from the World Health Organisation, the physically challenged population in Cameroon stands at 15 per cent, which is an estimated three million citizens. Amongst the total, over one million are of voting age.
ELECAM officials highlight the different categories of physically challenged persons which include; visionary impaired, audition or hearing loss, motion disabilities, speech impediments and height challenges amongst others.
Congnisant of these facts, the biometric registration instruments have a soft ware application that best meets the needs of these individuals. Presently, over 34,000 physically challenged persons have inscribed their names on the electoral registers as compared to the 2013 Municipal elections which had over 32,000 of them participating in the process.
Working in collaboration with over 80 civil society association under the platform "Inclusive Society for Persons with Disabilities", ELECAM registration tents and mobile units are installed at prominent centres that mange situations of physically challenged individuals to get them enlisted.
In addition, together with pregnant women and elderly persons, they do not line up to get registered or vote.
The enrollment team, mixed commission, staff and Council Branch Heads have the incorporation of physically challenged persons and minority groups in them. ELECAM at present boasts of over 50 recruited physically challenged staff. Several adverts and electoral messages have them included in order to encourage others.
Sensitisation messages are brailed in both official languages with other measures taken to include the deaf and dumb in the communication process as a means to enhance transparency and convergence.
All these and many more are in a bid to respect Article 29 of the Convention on the Rights of Persons with Disabilities and Resolution 61/106 of 13 December 2006 of the United Nations which calls for the respect and the promotion of the rights of physically challenged persons in the society.
ELECAM therefore urges political parties and other actors in elections to ensure accessibility to their information through the use of sign language in TV programmes, bold writing for those with myopic issues, loud and clear speaking for those with hearing impediments.

Same category