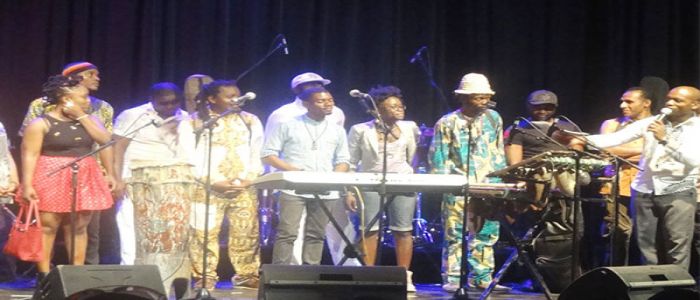 Une collecte de fonds doit leur permettre de participer au Salon international des musiques du monde de Rabat.
« On The Road To Visa For Music ». C'est le nom de l'opération lancée par l'association Scène d'Ebène afin de permettre à certains artistes camerounais, du collectif Hip hop développé (HHD), Armand Biyag et le groupe Love N' Live, de prendre part au Salon international des musiques du monde de Rabat (Maroc), dénommé « Visa for Music », prévu en novembre prochain. Des artistes qui avaient déjà été de la première vague d'expériences, « Sur la route du Masa ».
Et c'est à Abidjan en Côte d'Ivoire, où se tenait le Masa 2016 (Marché des arts du spectacle africain) en mars dernier, que les contacts ont été établis avec Brahim El Mazned, le directeur du festival de Rabat. Premiers résultats concrets, en plus de l'invitation au Salon : 26 chambres d'hôtel attendent la délégation camerounaise sur place. Le plus dur maintenant, c'est la logistique pour arriver jusqu'au royaume chérifien. D'où l'idée du concert du 6 octobre dernier à Douala. Pour une collecte de fonds qui devait servir à l'achat des billets d'avion des artistes invités.
Un galop d'essai qui a permis d'évaluer les potentielles attentes du public, à travers la réaction des spectateurs de l'Institut français du Cameroun, antenne de la capitale économique. Elle fut positive. Surtout au vu du talent qu'il y avait sur la scène ce soir-là. On a d'abord eu le collectif HHD : la voix fêlée de Danielle Eog, les accents plus sages de Teety Tezano (tiens, Beyonce a de la concurrence !) et le timbre inclassable d'Adango Salicia, un diamant brut qui rappelle, à bien des égards, la rébellion musicale de Sandra Nkakè. Compositions solos, interprétations du groupe, styles musicaux multiples, jazz, funk, reggae, bend skin, on était déjà en plein dans la music trip pour Rabat.
Same category