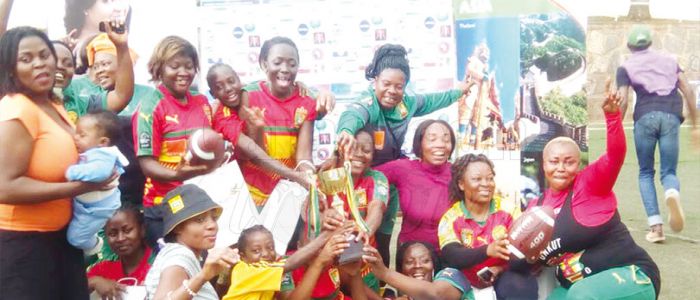 The fourth edition of the Camer Football Women tournament took place in Yaounde on March 3, 2018.
The Cameroon American Football Association (CAFA), in keeping with one of its objectives of empowering girls and women through sports, convened some 500 girls and women last weekend, at the American school of Yaounde, in a two day American Football tournament, which rounded off on Sunday March 4, 2018. This was in prelude to this year's International Women's day which had as theme « Intensify the Fight Against Discrimination on Women, Strengthen Partnership to spread up Sustainable Development ».
The event featured different female social groups like the Association of Bazou Women, Regroupement Des Association Féminine De La Region de L'ouest (RAFRODEM), Association Des Femmes Amies Du Développement (AFADEV), Association Femmes Avisées Et Sensibles (AFASY), Collectives Des Professionnel De L'art (CORPO ART), Coordination des Ngonguems Bazou de Yaounde (CONBY) and sponsors. In one of the matches Bazou beat AFASY women from Yaounde by 8 goals to 0, while COPRO ART humiliated RAFRODEM 12 goals to nil.
It was necessary to give a different perspective to the routine way in which Women's Day in Cameroon had been celebrated in past years, by introducing the women to something new which is American Football. It also served as a launch of the activities of the federation that will continue with their trainings after the tournament.
The event was cordinated by Awasum E.M. Cameroon Football Women 2018 finally witnessed the victory of AFASY that took the first position, AFADEV came up with the second position and CONBY the third position. The event which ended on March 4, 2018 was graced with the award of trophies.
Same category