2019 AFCON: France Committed To Support Cameroon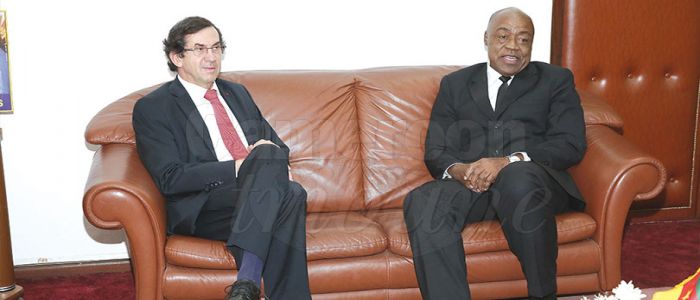 The French Ambassador to Cameroon paid a courtesy visit to the Ministry of Sports and Physical Education on Thursday March 15.
France has announced its commitment to support Cameroon in the organisation of the 2019 AFCON in Cameroon. This was the outcome of an audience granted to the French Ambassador to Cameroon, Gilles Thibault, by the Minister of Sports and physical Education, Bdoung Mkpatt, on Thursday March 15, 2018.
Speaking to journalists after the audience, the diplomate said his country is concerned with the success of the organisation of the 2019 Africa Cup of Nations. Gilles Thibault explained that he watched the final in Libreville, Gabon, in 2017 and he had a chance to watch the great victory of Cameroon in the final and he hopes to see the same in 2019.
On the preparations of the 2019 AFCON he said Cameroon is working with French companies which are mostly consultancy firms and that Cameroon is expecting these companies to give their best to meet the deadline. Apart from the 2019 AFCON, the French Ambassador had discussions with the Minister about the youths of Cameroon, the preparations of the Olympic Games in Paris 2024 and the Africa Cup of Nations which is going to be a great event on the continent in general and Cameroon in particular.
Concerning the preparations for the Olympic Games in Paris 2024, he said he hopes it will be possible for all Cameroonian champions to participate in the Olympic Games not only in football or athletics but in many of the disciplines. "I am sure that with mobilisation from now till 2024 it is going to be possible to see great Cameroonian champions in Paris," he said.

Same category