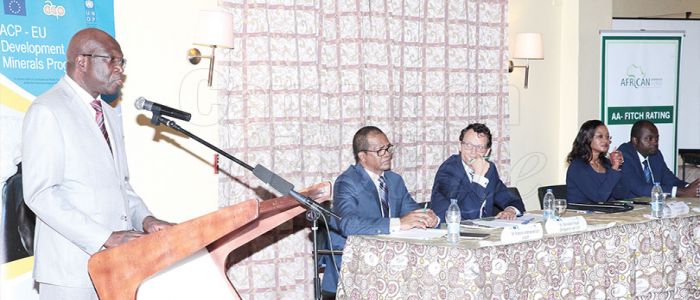 The UNDP, in collaboration with development partners in a seminar on March 19, schooled banking and financing institutions on the importance of artisanal miners.
The United Nations Development Program (UNDP), the European Union, the African Guarantee Fund and the Ministry of Mines, Industries and Technological Development want to facilitate access to funding for Small and Medium-sized Enterprises in Cameroon dealing with development minerals.
The institutions jointly organised a workshop in Yaounde on March 19 to educate some forty-five representatives of institutions in Cameroon's financial sector including commercial banks, development banks, micro-finance institutions and cooperative credit unions on financial inclusion for development minerals.
Francis Andrianarison, representative of the Resident Representative of the UNDP, in an address, pointed out development minerals are minerals and materials that are mined, processed, manufactured and used domestically in industries like construction, manufacturing, agriculture and infrastructure.
These include sand, gravel, cement, limestone, granite, clay among other materials commonly used in road, housing and other infrastructure projects.
Chariot Moussa, National Coordinator of the ACP-EU programmme at the UNDP told reporters that 90 per cent of activities in the construction domain in Cameroon are artisanal.
He said the main aim of the workshop was to sensitise stakeholders in the financing sector on the importance of the sector so that they can come up with loan options that suit businessmen. He said they are encouraging local financial institutions to tap from the African Guarantee Fund, while simultaneously encouraging SMEs in the development minerals sector to reorganise themselves and get loans from the bank. He regretted that 60 per cent of actors in the sector do not even own bank accounts.
The regional representative of the Fund said they provide funds to banks which have partnered with them and have a focus on the promotion of SMEs.
Benedikt Madl who spoke on behalf of the EU delegation in Cameroon said the minerals which were formerly referred to as low value minerals have proven to be among the most valuable. He noted that figures from the US Geological Survey show construction minerals total 84 per cent of global mineral production.
Global sand and gravel production is estimated at 40 billion tons per year, making them the most utilized natural resources after water. Organisers of the workshop hold promotion of the sector will go a long way to create jobs and reduce poverty to a socially acceptable level, given that a majority of actors in the sector operate in domestic SMEs.
Same category