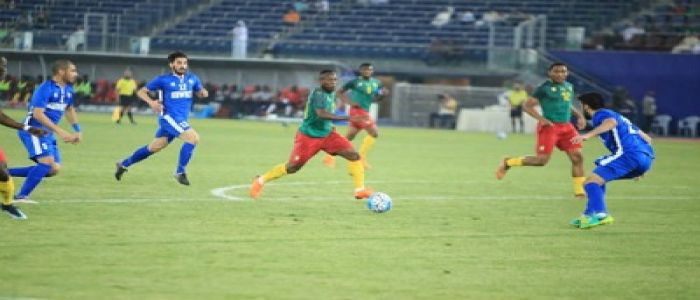 They beat the Al-Azag of Kuwait 3-1 in an international friendly yesterday March 25, 2018 in Kuwait City.
The Indomitable Lions of Cameroon have once more brought hope and joy to their fans. The team beat Al-Azag of Kuwait 3- 1 in a friendly encounter yesterday in Kuwait City. The encounter was equally part of preparations for the 2019 Africa Cup of Nations in Cameroon.
It was equally the first international outing for the Lions since the departure of former Head coach, Hugo Broos. As many had expected the match was a chance for the Lions to make a restart after their poor showing at the Confederations Cup and the failure to qualify for the World Cup.
The Cameroonians started the game in a brilliant manner with a constructive and harmonious play style. The attack machinery made up of Clinton Njie, Vincent Aboubakar and Christian Bassogog was fully alive and created a lot of tension in the Kuwaiti defence. At the 12th minute Vincent Aboubakar scored the curtain raiser.
Christian Bassogog scored the second goal for Cameroon at the 16th minute after benefiting from a pass from Vincent Aboubakar. Both teams separated at half time on a 2-0 score margin in favour of Cameroon.
On resumption the Lions continued to dominate the encounter displaying rich talents. Replacements by the Head coach Belinga added more impetus to the team as each player was up to the task. At the 50th minute, Christian Bassogog increased tally for Cameroon. They Kuwaitis however put up a strong fight and scored at the 57th minute.
Efforts by Kuwait to further reduce tally were fruitless. It was the first victory for Alexandre Belinga as interim coach for the Indomitable Lions. It is expected that the Indomitable Lions squad will continue with the same spirit in order to reach higher heights.
Same category