South Africa: Winnie Mandela Is No More!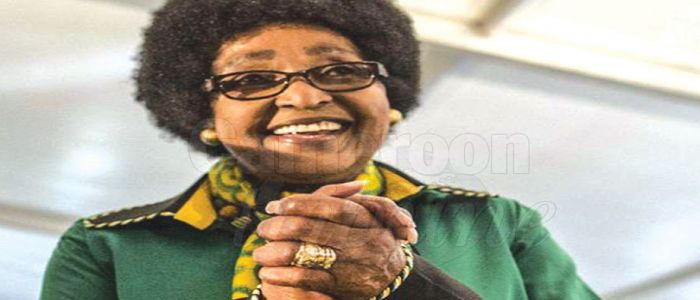 Nelson Mandela's ex-wife and anti-Apartheid campaigner died on April 2, 2018 aged 81.
One of South Africa's foremost anti-Apartheid campaigners, Winnie Madikizela Mandela, died at the age of 81, her personal assistant announced. "It is with profound sadness that we inform the public that Mrs Winnie Madikizela-Mandela passed away at the Netcare Milpark Hospital' Johannesburg' South Africa on Monday, April 2' 2018," Zodwa Zwane said.
Winnie died after a long illness that took her in and out of hospital since the start of this year. "She succumbed peacefully in the early hours of Monday afternoon, surrounded by her family and loved ones," the family said in a statement.
The family promised to release details of the memorial and funeral services after. In another statement, the ruling African National Congress, ANC, described Madikizela-Mandela as "one of the greatest icons of the struggle against Apartheid.
She fought valiantly against the Apartheid State and sacrificed her life for the freedom of the country," the statement said. Born in Bizana in the Eastern Cape in 1936' Winnie Madikizela Mandela after graduating, moved to Johannesburg to study social work where she met lawyer and anti-Apartheid activist, Nelson Mandela in 1957. They got married a year later.
They had two children together. Mandela was arrested in 1963 and sentenced to life imprisonment for treason, but released in 1990. During Mandela's imprisonment, Winnie was placed under house arrest and at one time banished to Brandfort in Free State.
In 1969' Winnie Madikizela-Mandela was detained for 18 months in solitary confinement in a condemned cell at Pretoria Central Prison before being charged under the Suppression of Communism Act of 1950.
In 1991' she was convicted of kidnapping and being an accessory to the assault on Stompie Seipei' a young activist who was killed by a member of her bodyguards' the Mandela United Football Club. Her six-year jail sentence was reduced to a fine and a two-year suspended sentence on appeal. Winnie and Nelson Mandela divorced in 1996 after 37 years of marriage.
After the first democratic election in 1994' Madikizela-Mandela became a parliamentarian and was appointed Deputy Minister of Arts and Culture, but was later fired by then President Nelson Mandela after an unauthorised trip to Ghana. Winnie has been an MP ever since' despite limited appearances in Parliament in the past few years. In 2016' she was conferred the Order of Luthuli in Silver during the National Orders Awards for her contribution to the liberation of South Africa.
Same category