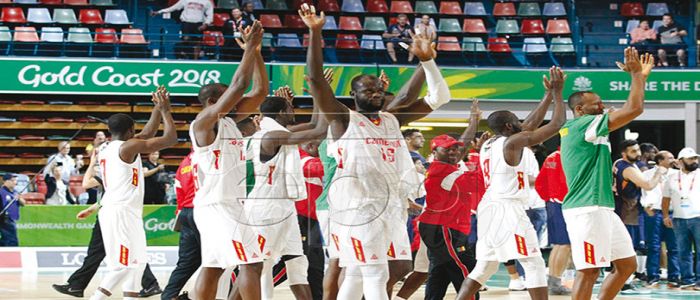 The national men's basketball team beat India 96-87 in the opening game yesterday in Gold Coast.
The Commonwealth Games entered the second day yesterday April 5, 2018. Also yesterday Cameroonian athletes entered the competition in two sports disciplines- weightlifting and basketball.
In weightlifting, Olivier Heracles Matam Matam the 62kg weightlifter was first Cameroonian athlete to compete in this year's Commonwealth Games in Gold Coast, Australia.
The 25 year-old Olivier Matam, 1.58m, took part in the final of the men's 62kg category. At the end of the competition, Olivier Matam Matam finished eighth out of 15 after lifting 113kg in the snatch, and 145kg in the clean and jerk making a total of 258kg.
At the start of the basketball competition, the national men's basketball team beat India 96-87 in Townsville to register the first victory in the competition. In the other match, Scotland beat Great Britain 78-65. Cameroon will play their second game against Scotland tomorrow April 7 and the third will be against Great Britain on Sunday April 8, 2018. Cameroonian boxers will enter the ring today April 6, 2018.
In the women's competition, Cameroon's Azangue Aubierge will face Rosie Eccles in the 69kg category. In the men's competition, Simplice Fotsala will face Galal Yafai (England). In the 75kg Seyi Wilfried will fight Marvin Anthony (Saint Lucia) and in the +91kg Arsene Fokou will face Kei Soulemanou (Tonga).
According to the official programme from Gold Coast, the competition will begin at 12 noon today. Azangue will begin at 12:02 p.m., Fotsala 12:32 p.m., Seyi 7:17 p.m. and Fokou 8:17 p.m. In weightlifting, Donald Nkoh will compete in the 85kg category at 9:30 a.m.
In the meantime, injured high jump athlete, Fernand Djoumessi, has been discharged from hospital after a successful surgery on Wednesday April 4, 2018.
He injured his Achilles tendon during training on Tuesday April 3, 2018 in Gold Coast. Yesterday, the Minister of Sports and Physical Education, Bidoung Mkpatt, who is also the head of the Cameroonian delegation in Gold Coast, paid a visit to the injured player to encourage him.

Same category