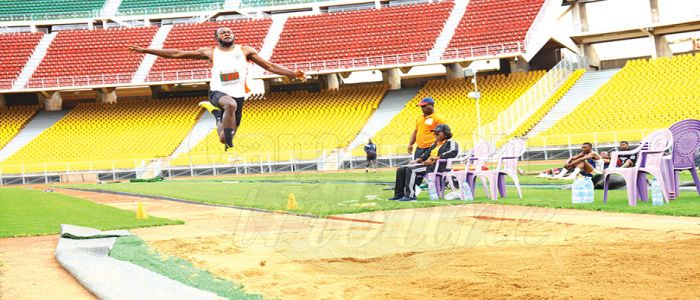 He qualified for the final of the long jump competition after jumping a distance of 7m84 at the Carrara Stadium in Gold Coast yesterday April 10, 2018.
Cameroon's Marcel Mayack II qualified for the final of the men's long jump competition at the ongoing 21st edition of the Commonwealth Games at the Carrara Stadium in Gold Coast, Australia yesterday April 10, 2018. He finished eighth out of 14 after jumping a distance of 7m84.
Following the qualification rules of the competition the 7m84 jump qualifies him for the final. The qualification of Mayack II is a source of hope for Team Cameroon that is highly in need of medals in the competition.
Mayack II will have to work hard to improve on his performance as he will have to compete with tough athletes like South Africa's Ruswahl Samaai (8m06), Turks and Caicos Islands' Ifeanyi Otuonye (8m03) and England's Daniel Bramble tomorrow April 11, 2018.
The day was full of track and field events. In the track events, Germaine Abessolo Bivina qualified for the semi-final of the women's 200m race with a personal best record of 23"77. According qualification rules the first four in each heat and the next four fastest advance to the semi-finals.
Still in the women's 200m track event, Charifa Abdoulahi Labarrang did not take part in the competition due to injury while Irene Bell Bonong finished sixth and was eliminated. In the women's triple jump event Sandrine Mboumi finished seventh.
In boxing Cameroon's Christelle Aurore Ndiang lost to Australia's Skye Nicolso in a 57kgs quarterfinals bout. In the men's 91kgs quarterfinals Christian Ndzie Tsoye lost to New Zealand's David Nyika and in the +91kgs quarterfinals Arsene Fokou lost to Keddy Agnes from Seychelles.
In Badminton, Antione Owona Ndimako lost to Trinidad and Tobago's Naim Mohammed 0-2 sets in the men's badminton competition.
Stella Ngadjui lost to Northern Ireland's Rahael Darragh by a similar score. Cameroon's hope lies in Seyi Wilfried who will fight with New Zealand's Ryan Scaife tomorrow in the quarterfinals at 3:32 p.m.
Same category