International Yoga Day Preparation: Importance of Meditation To Wellbeing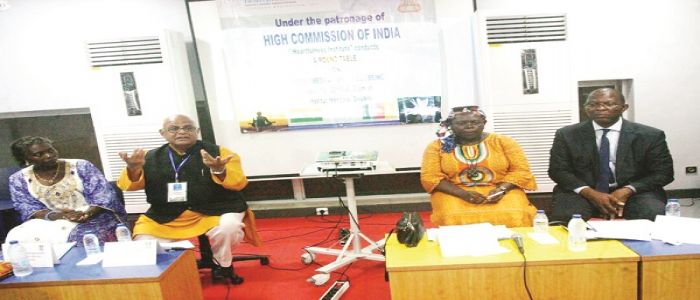 Talks on that effect took place in Douala under the patronage of the High Commission of India.
Preparations towards the fourth edition of the International Yoga Day that will be commemorated on June 21st, kicked off in Douala April 19 with a round table conference on the theme: "Yoga: Meditation and Wellbeing". In the presence of the Honorary Consul of India to Cameroon, J. Ravikumar, the round table conference moderator, Prof Noah Noah of the Douala University, disclosed that the state of mind can cure and inflict illnesses on human beings.
"Negative thinking, leads to negative happenings, he insisted while using, anecdotes to support his point.With no blackmail intention, he pointed out that some men-of-God are psychologists and have succeeded and are still succeeding in treating the illnesses of their faithful.
Organised by Heartfulness Institute in collaboration with the India High Commission, the Head of the Institute, Michel Mbeleg disclosed that many did not understand the discipline while others thought it was diabolic. "If Yoga wasn't important and safe, the United Nations wouldn't have proclaimed June 21st as the International Day of Yoga following its universal appeal on 11 December 2014," he made known.
Yoga has been practiced in Cameroon since 20 years and we can count at least 600 people that practice it. Activities including the practice of meditation and Yoga for children will characterise the week.
During the round table conference, the Honorary Consul of India to Cameroon, J. Ravikumar said Yoga that dates as far back as 2000 BC, is a gift from India to mankind. "Indians give importance to physical, spiritual and mental wellbeing and use individual resources like body and mind to kick out individual illnesses which became the signs of Yoga," the Consul narrated.
It should be noted that Yoga is an ancient physical, mental and spiritual practice that originated from India which involves breath control, simple meditation and the adoption of specific body postures practiced for health and relaxation. According to those who practice the discipline, it helps one to face and dissolve anger, fear, guilt and worries,