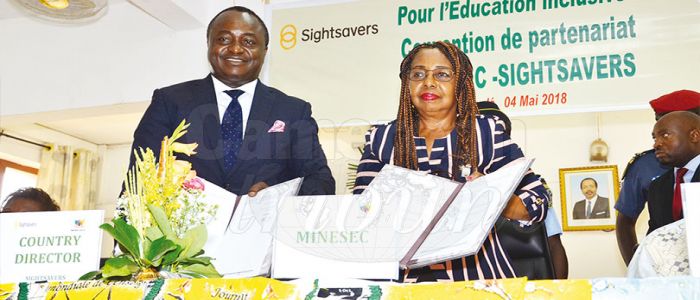 The agreement is aimed at strengthening and formalising the promotion of inclusive education in Cameroon.
The Minister of Secondary Education (MINESEC), Nalova Lyonga has called on parents of disabled children; and the disabled children themselves not to give up for disability is another perspective on life; not a condemnation to failure for the government is trying to extend their possibilities which should not be the end of education.
Professor Nalova Lyonga was speaking last Friday May 4, 2018 in Yaounde as she signed a Memorandum of Understanding (MOU) between the international NGO-Sightsavers and the Ministry of Secondary Education.
The MOU is aimed at providing a legal and planned framework to promote inclusive education, enhance awareness for inclusive education while promoting inter-ministerial and multi-sectoral networking for inclusive education in the country.
Nalova Lyonga said the government is committed to implementing an inclusive education policy that respects the rights of all children to education whatever the barrier that the society or nature may erect. While reiterating the presidential couple's personal interest in the youth, particularly the First Lady's special attention to people with special needs through her association, the Circle of Friends of Cameroon (CERAC), the Minister of Secondary Education, lauded the action of Sightsavers, which comes to join forces with the government in fostering inclusive education in general and in technical teacher training scho...
Same category