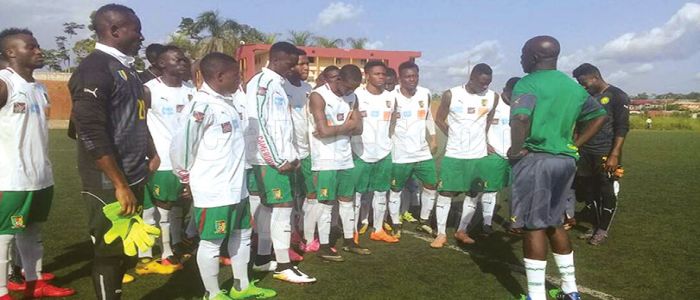 They will play the away leg qualifier against the Uganda Hippos on Saturday May 12, 2018 at the Kampala Stadium.
The national U-20 football squad will leave the country today May 9, 2018 for Uganda where they will play the away leg qualifier against Uganda Hippos on Saturday May 12, 2018 at the Kampala Stadium. The encounter will be the beginning of the second round qualifier for the 21st edition of the Africa Cup of Nations in that category.
For the past one month the players have been fine-tuning their skills in Yaounde ahead of the qualifier. The training sessions focused mostly on ball control and passes. Apart from learning football tactics, the players played several friendly matches with some First Division teams in the country to enable them have an idea of the challenge ahead.
The U-20 Lions lost to Coton Sport 0-4. They beat APEJES Junior 2-0. The U20 Lions beat Unisport Bafang 3-2. Ignatius Ganago who plays for French Ligue 1 side, OGC Nice, scored two goals and Kamdem scored one goal. Before leaving the country the team had the last training session in Yaounde yesterday to work out winning strategies.
Coach Christophe Ousmanou will be counting on top stars like Ignatius Ganago, home based players like Moise Sakava and Ako, among others. The U20 Lions are leaving the country with one objective which is to qualify for the 2019 Africa Cup of Nations in Niger.
Coach Ousmanou Christophe said the team is working hard to ensure that they secure a victory in Uganda. He said the team is good and that he will give his best to help his team win the two matches ahead of them.
Cameroon was exempted from the preliminary round of the qualifying tournament owing to their rich track record. They won the tournament in 1995 and have finished as runners up four times notably 1981, 1993, 2009 and 2011.
Same category