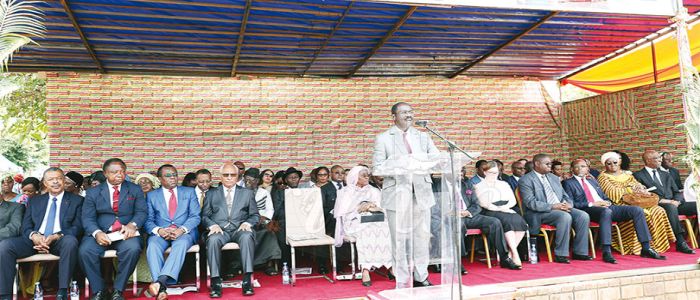 National and international writers are meeting in Yaounde to create awareness on the necessity to read and encourage writing as a means of improving literacy rates.
The third edition of the Yaounde international book fair is on course in Yaounde. National and international writers will till May 13 at the national museum courtyard exchange ideas on improving the book sector. The Minister of Arts and Culture, Prof. Narcisse Mouelle Kombi on May 9, 2018 officially kick-started the book fair as Representative of the Prime Minister.
Holding under the theme "the book, an instrument of consolidation of peace and unity", the fair is placed under the patronage of the President of the Republic. Minister Mouelle Kombi said the fair aims at giving visibility to the book sector in Cameroon. He equally used the occasion to pay homage to some Cameroonian writers who through their fiction or scientific works contribute to knowledge improvement in the country.
Going by him, the culture of reading books is the finest practice that advances the educational landscape of the country. "Books should be written to reflect dignity and should promote multiculturalism and living together. The function of books is to preserve and promote the history of Cameroon," he stated. He urged writers and publishers to produce educative documents which are productive.
The Representative of Writers, Dr. Eugene Ebode highlighted on the importance of the book fair. On behalf of his colleagues, he presented a number of challenges rocking the sector and made a number of demands as assistance to stakeholders in the domain.
According to Playwright Dr Emelda Ngufor Samba, the book fair is a double event. "This international book creates awareness on the necessity of promoting a reading culture and encouraging writing. We get motivated and encouraged by our colleagues from other countries with whom we share ideas on different subjects. The fair serves as an occasion for reflecting on ways to improve reading in our nation. We usually leave such a fair with a fresh impetus of writing," she sated.
A sketch by kids on the title "Book" was presented with them constantly repeating the phrase "always read the good ones (book)." Some eight authors were given symbolic decorations as recognition to their works with Prof. Anne Tanyi Tang, playwright and Director of the 50th anniversary play amongst them.
Arts and Culture Minister visited exhibitions that celebrate some leading figures of Cameroon's Literature. Some Government Ministers and members of the diplomatic corps attended the launching ceremony.
Same category