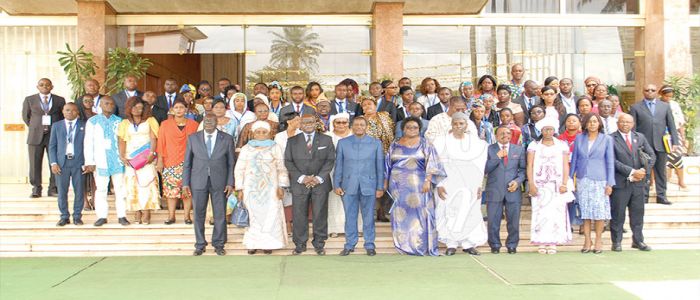 An intergenerational dialogue organised on May 14, 2018 debated obstacles and proposed strategies to promote civic engagement of youths.
As part of efforts in promoting the participation of women and youths in the decision making process of the country, an intergenerational dialogue has been organised at the National Assembly in Yaounde on May 14, 2018 to fine-tune strategies at promoting civic engagement of youths.
The seminar organised by the United Nations Entity for Gender Equality and the Empowerment, UN WOMEN, in collaboration with the Parliamentarians Youth Network (REJE), the Ministry of Women Empowerment and the Family (MINPROFF) and the Ministry of Youth Affairs and Civic Education (MINJEC), seeks to promote the participation of young people in national development.
The forum equally highlights the role and importance of religious and traditional leaders as a vector of effective participation of girls in the decision making process. Officially opening deliberations on behalf of the Speaker of the National Assembly, the Senior Deputy Speaker, Hon. Hilarion Etong said involving the youths in the socio-political process of Cameroon is the reason for the organization of the forum.
He therefore urged participants to sought measures of promoting and encouraging the autonomy of women and the youthful population.
Going by the Minister of Women Empowerment and the Family, Marie Thérése Abena Ondoa, the female gender is usually the victim in domestic and professional violence. She called on the youths to be responsible, creative and avoid short cuts to easy paths in life. She regretted the continuous practices of early child and forced marriages in some communities.
Hon Komba Gaston, Coordinator of REJE, on his part stated that youthfulness is not being handicapped. To him, it is rather an asset which should be exploited for nation building. He urged them to in their respective spheres participate in community activities rather than idle.
Representing the Resident Representative of UN WOMEN, the Coordinator of Governance Programmes, Paulette Beat Songue said the organisation of the forum creates a platform to demonstrate the added value of female leadership in improving governance.
Same category