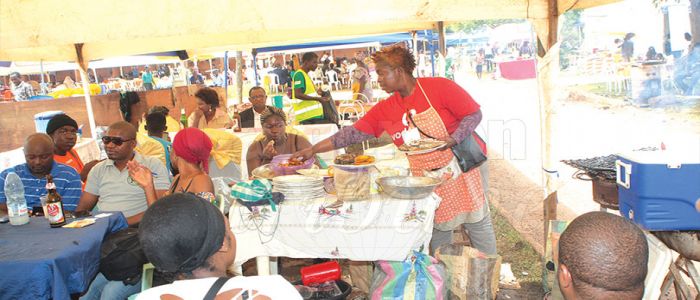 A display of cultural and traditional tenets of the ten different regions of the country occupy the courtyard of the National Museum as exhibitors celebrate national unity.
National unity and integration spans through different factors and has an incorporation of several domains which cannot be separated from culture. A blend of cultural norms and traditional dishes gives beauty to our unity in diversity.
A walk around the "Unity and National Integration Village" at the courtyard of the National Museum provides one with an enriching panoramic view of the delicacies of Cameroon.
Being in its second edition, the unity and national integration village is organised as part of commemorative activities leading to the celebration of the 46th edition of the National Day within the framework of Cameroon's living together week.
Activities have been partitioned to tell the story of the four cultural spheres of Cameroon and are holding under the theme; "Cameroonian citizens, let us remain united in diversity and preserve social peace, for a stable, indivisible and prosperous Cameroon."
Over 20 stands are used for the display of traditional meals and other foods from the ten regions. Achu, waterfufu and eru, fufu corn and vegetables, foléré, bocco (tree leaves), kelinkélin, kondré (plantains and tomatoes sauce with so much meat), nkwni, ndomba (fish soup cooked in plantain leaves), roast fish and chicken are some of the dishes that are cooked and sold at the area.
A plate of food is sold as from FCFA 1,000. Most of the dishes are served in the most desirable traditional means; in leaves and traditional calabashes.
Talking to Mafonga Alexandrine, a lady who cooks and sells eru, she said it is her very first participation in the unity village. Besides engaging in the sale of food and drinks, she says she has made new friends and has a better appreciation of living together.
"I have come to learn about the traditional dishes of other regions in the country. I am fortunate enough that I see how the dishes are prepared and I always look very closely. I would not have known how some of these dishes are cooked should I not have come here. I will introduce these delicacies to my family when I get home," she said.
Others at the village square expressed appreciation for the initiative. "It really brings together Cameroonians and we get to learn so much in a short while about the cultures and traditions of other regions. I now know which dish to cook as a surprise when I will have visitors or friends from the East region," stated Ayuk Mirable, after visiting some stands.
The General Coordinator of the Unity and National Integration Village 2018, Marc Armand Sandjok, who is Assistant Inspector N° 1 in charge of Programmes in the Ministry of Youth Affairs and Civic Education together with his collaborators visit the site constantly for assessment on the evolvement of activities.

Same category