Cameroon-USA: Joint Resolve To Eradicate Boko Haram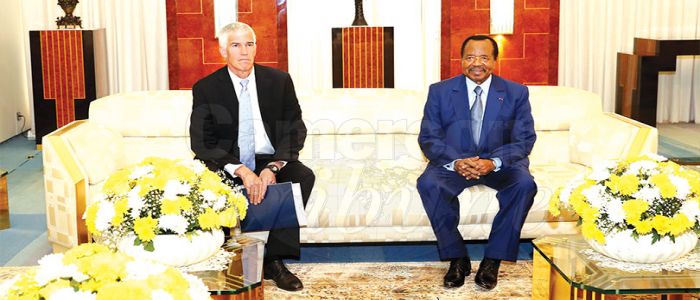 Cooperation between the two countries has been witnessing exponential growth with the fight against terrorism as a recent major focus.
The Ambassador of the United States of America to Cameroon, Peter Henry Barlerin in a Unity Palace audience on May 17, 2018 in Yaounde presented the congratulations of US President Donald Trump to President Paul Biya on the occasion of the upcoming National Day celebrations in Cameroon on May 20, 2018.
President Biya and his guest took off time to discuss the growing cooperation between the two countries in the fight against the terrorist sect Boko Haram in the Far North Region. The cooperation has been yielding fruits reasons why the two officials expressed satisfaction and the U.S. diplomat encouraged the Cameroonian defence forces fighting the war.
The Unity Palace talks came barely a week after the U.S. government on May 12, 2018 donated to Cameroon two military aircraft, CESSNA 208 B to reinforce surveillance, reconnaissance and intelligence mission uniquely in the war against Boko Haram. Each of the aircrafts possess inbuilt cameras that could capture images from the ground for up to 10 kilometers away.
The US government has shown exemplary cooperation since the start of the war against Boko Haram. In October 2015, the then U.S. President Barrack Obama ordered 300 members of the US armed forces to be deployed to Cameroon with the mission to conduct airborne intelligence, surveillance and reconnaissance operations in the war region.
Besides the deployment of the troops, the United States also trained Cameroon military forces in detecting and counteracting landmines and explosive devices also used by the terrorists. The U.S. has also donated military equipment to Cameroon to boost the fight against Boko Haram.
Same category