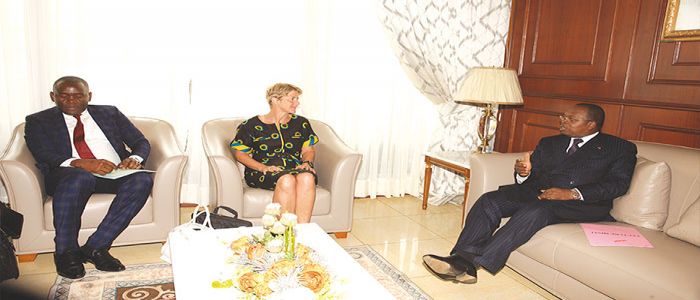 The Director General of EDF Cameroun has held an audience with the Minister of Finance during which they discussed finalising financing modalities.
Plans are afoot for the commencement of the construction of the 420 MW Nachtigal hydroelectricity dam on the River Sanaga. Karine Migliorini, Director General of Électricité de France (EDF) Cameroun; one of the three financiers of the project, has held talks with the Minister of Finance, Louis Paul Motaze on concretising financing modalities and making available the funds so that constructions works could begin soonest. The in-camera audience took place in Yaounde, Friday May 18, 2018.
Karine Migliorini's concertation with the Minister of Finance follows that of Marianne Laigneau, Executive Director of the EDF Group. During her visit which took place one month earlier, she discussed with the Minister of Finance on issues concerning the financing of the project, the 35-year concession accorded the Nachtigal Hydro Power Company (NHPC) and the sale of the electricity which will be produced in the facility.
The Director General of EDF Cameroun told reporters after the audience that great advances have been made on the architectural realization of the project. She disclosed that the social and environmental impact assessment report has been validated while indemnities have been paid to locals in the affected project area. Also, the conception plan is said to have been finalised.
We learned EDF has 40 per cent stake in the project, while the Government of Cameroon and the World Bank's International Finance Corporation each have 30 per cent. The putting in place of the dam will cost some FCFA 690 billion.

Same category