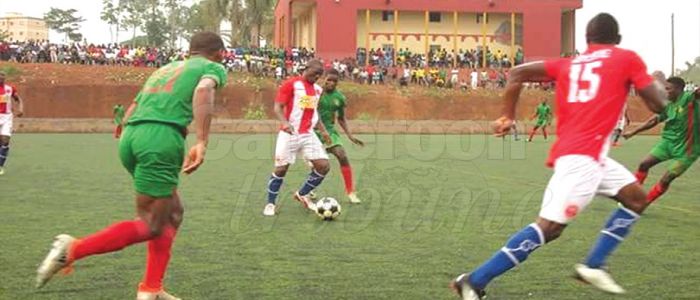 Matches counting for the 17th day of play took place in stadiums across the country last weekend.
Canon Yaounde have regained the top seat of MTN Elite One championship. They beat Cosmos of Mbam 1-0 in a day 17 encounter that took place at the CAF Excellence Centre in Mbankomo on May 26, 2018.
The victory puts Canon on top of the league table with 31 points.
Canon's goal was scored by Brice Sindjo who scored from the penalty spot. PWD of Bamenda is second with 31 points and Tonnerre Kalara Club of Yaounde is third with 31 points. In all seven matches were played with six goals scored and two draws. In the second game in Mbankomo Tonnerre Yaounde beat AS Matelots of Douala 1-0.
In Limbe Avion of Nkam played a 0-0 tie with bang Bullets of Nkambe at the Limbe Annew Stadium. In Bafang, Lion Blessé beat PWD of Bamenda 2-0 at the Bafang Municipal Stadium. Ngaoundere University drew 0-0 with AS Etoa Meki at the Ngaoundere Municipal Stadium. In Dschang, Racing Bafoussam beat Renaissance of Ngoumou 1-0 at the CENAJES d Stadium. In Bamenda Panthere Sportive of Bangangté beat National Polytechnic 1-0 at the Yong Sports Academy Stadium.
At the end of the 17th playing day, Brice Sindjo (Canon Yaounde) remains the best scorer for the season with 10 goals. He is followed by arch rival, Aime Mangolo of Avion of Nkam with nine goals.
David Metogo Anaba (Lion Blessé) is third with eight goals. Kunde Emmanuel Junior of Canon Yaounde has seven goals, Mfegue George (Avion) seven goals, Dhobit Clovis (PWD) five goals and Lionel Ateba (AS Etoa Meki) five goals.
Three clubs are already in the relegation zone. They are National Polytechnic of Bamenda with 11 points, Dynamo FC 10 and Ngaoundere University ten points.

Same category