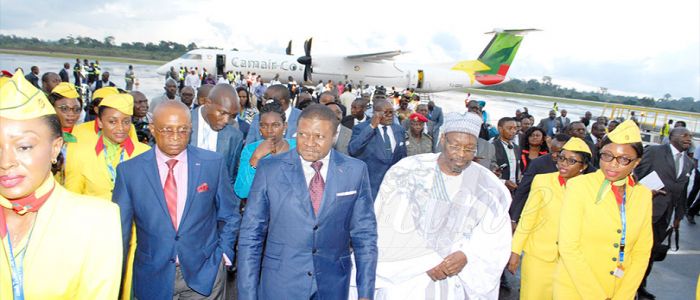 The Minister of Transport has tasked officials of the national carrier to make the State Corporation profitable and resilient as he commissioned the company's recently-acquired Bombardier Dash8-Q400 aircraft.
The 78-seater Bombardier Dash8-Q400 aircraft recently acquired by the Cameroon Airlines Corporation (Camair-Co) has been commissioned by the Minister of Transport, Ngalle Bibehe Jean Ernest Massena.
The official ceremony which took place yesterday in Yaounde was marked by an inaugural flight from the national capital Yaounde to the economic capital Douala, and back. Members of government, traditional rulers, civil administrators, Bombardier and Camair-Co staffs as well as many other attendees graced the occasion.
The equipment which is the first Bombardier aircraft to be introduced in Camair-Co's fleet, leaves the country's flag carrier with six planes as it pursues it restructuring plan commenced in 2016. Until this year, Camair-Co; which was created by President Paul Biya in 2011 from the defunct Cameroon Airlines, had one Boeing, two MA60 and two B737-700 aircrafts.
With the new acquisition, the national carrier which already flies 13 destinations within and out of the country plans to hit more cities, including Bertoua, Bamako, Brazzaville and Lagos.
While presiding at the commissioning ceremony, the Minister of Transport, Ngalle Bibehe Jean Ernest Massena called on officials of Camair-Co to make the State Corporation profitable in the near future, so that the State would not have to pump in money again.
He told them to develop resilience capacity of the country's economy. According to the Minister, the acquisition of the Canadian-made aircraft consolidates relation between Cameroon and Canada.
Camair-Co's restructuring plan which was reviewed by Boeing was engaged in 2016. The plan which has the blessings of the Head of State seeks to make the national airliner very vibrant by increasing its fleet and conquering the local and regional market.
The plan is said to have started yielding fruits as Camair-Co transported an unprecedented 235,686 passengers last year.
We learned the newly-acquired aircraft has been fairly used in the last two years by Abu Dhabi Aviation.

Same category