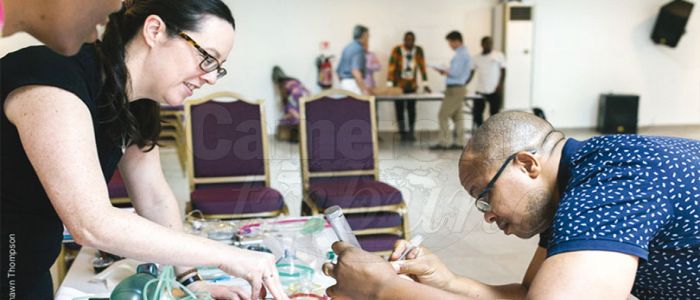 Participants from all the ten regions of the country undertook training courses in some 15 medical fields.
During its 10-months stay in the country, the Mercy Ships mission also organised capacity building medical training courses for local experts not just to ensure proper healing of the patients after their departure but also to transfer innovative medical technologies to the Cameroon medical corps.
As such, 89 medical specialists participated in capacity building in medical training monitoring while 1,475 nurses and training of trainers undertook capacity building courses in different fields.
The 89 surgeons and nurses from the ten regions of the country reinforced their capacity in fields such as intensive care in Partner Unit Mentoring Program (PUMP), burns pump, maxillofacial pump, surgeons, ponseti method, anaesthesia providers, ophthalmic and obstetric fistula.
Statistics from Mercy Ships indicate that the majority of specialists were in Anaesthesia providers giving a ratio of 22, 25 per cent second by trainers in intensive care pump with 15, 17 per cent and surgical field with 13, 14 per cent participants. Statistics also revealed that majority of experts in specialised training were women with a percentage of 51 as compared to men which stood at 49 per cent.
1,475 nurses and trainers participated in capacity building courses in the field of Biomedical, Regional Anaesthesia, Sterile Processing, Ultrasound, Ponse, Neonatal Reanimation, Ophthalmic Technicians, Safe Obstetric Anaesthesia, Safe Paediatric Anaesthesia, Essential Surgical Skills, Primary Trauma Care, WHO Surgical Safety Checklists Nutritional Agriculture as well as Essential Pain Management.
The majority of participants came from the South West Region giving a percentage of 93, 6 followed by the West Region with 58,4 per cent, the South Region with 49,3 per cent and Littoral Region with 47 per cent. The North West Region registered the least number of participants followed by the Adamawa and Far North Regions respectively.
A majority of nurses and training of trainers (764) improved their medical capacity in World Health Organisation (WHO) Surgical Safety Checklist.
Second on the training chart were the over 132 participants who fine tuned their knowledge on Primary Trauma Care, 123 participants for Safe Obstetric Anaesthesia and over 1 participants for Safe Paediatric Anaesthesia.
Fewer participants undertook training in Regional Anastasia, Ponse and Ultrasound. With such expertise the local staff is sure to provide quality healthcare to its patients.

Same category