2018 Women AFCON Qualifiers: Lionesses En Route To Brazzaville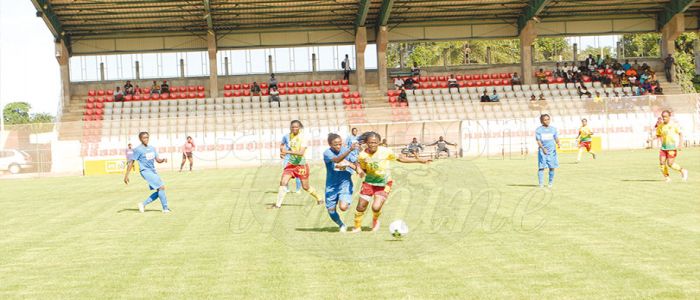 They will play against the Red Devils of Congo at the Stade Alphonse Massemba-Débat on Wednesday June 6, 2018.
The national women's football squad, the Indomitable Lionesses, left the country today for Brazzaville where they will play against the Red Devils of Congo at the Stade Alphonse Massemba-Débat on Wednesday June 6, 2018. The encounter will be the away leg of the 2018 Women's Africa Cup of Nations which takes place in Ghana from November 17 to December 1, 2018.
For the past two weeks, the Lionesses were training in their hideout at the CAF Excellence Centre in Mbankomo. That was the third and last training camp before leaving for the Congo campaign. The training focused on working out winning strategies ahead of the encounter. During the training programme the Lionesses also played several friendly matches with some teams in the national championship.
Prior to their departure, the Indomitable Lionesses rounded up their training with an evaluation match with a team of selected players from the national championship at the Yaounde Military Stadium on Friday, June 1, 2018. The Lionesses were divided into two in two separate teams.
The first team won 2-0 while the second won 1-0. In all the two games played the Lioness were able to show what stuff they are made off. Team officials told Cameroon Tribune that some players who joined the camp late like Aboudi Onguene did not play the friendly encounter due to tiredness.
The players, our source said needed enough time to rest. The encounters were watched by the Minister of Sports and Physical Education, Bidoung Mkpatt as well as other top officials of the Cameroon Football Federation (FECAFOOT) and other invitees.
It was an opportunity for the public to have a taste of what the Lionesses will play in Brazzaville. It was equally an opportunity for Head coach Ndoko Joseph to better asses the team given the challenges ahead.
According to Ndoko Joseph the team is leaving the country with one objective which is to win the match and to qualify for the AFCON.
Cameroon is seeking qualification for the AFCON tournament for the fifth time after that of 1991, 2004, 2014, 2016. The return leg has been billed for June 9, 2018 at the Yaounde Omnisports Stadium.

Same category