Secondary Education: Samuel Eto'o Opts For Youth Development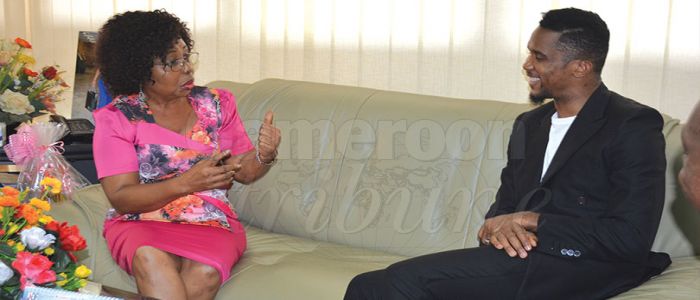 The Indomitable Lions' ace striker paid a courtesy visit at the Ministry of Secondary Education yesterday June 5, 2018.
The Minister of Secondary Education, Professor Pauline Nalova Lyonga granted audience to the former Indomitable Lions' captain, Samuel Eto'o Fils, yesterday June 5, 2018 in her cabinet.
Speaking at the audience Minister Nalova Lyonga said sports had always been and will always be important for people of all ages and that Cameroon is proud of Samuel Eto'o. She said Eto'o is coming to the Ministry of Secondary Education at a time when Cameroon needs peace so that Cameroonians can enjoy their endowment.
She expressed the wish that the Samuel Eto'o Foundation will spread to all the regions of the country so that children in some areas like the North West and South West will also have the feeling of belonging to the nation.
On his part, Samuel Eto'o said he will do his best to give more opportunity to youths as he has always done in the past. He assured the Minister that he will work together for dialogue and peace so that Cameroonians can share a meal together as brothers. Samuel Eto'o used the occasion to announce the imminent launching of a football tournament in the days ahead for youths.
Scholarships will be awarded to the youths to enable them provide for their school needs. He also used the opportunity to request from the Minister an authorisation to visit schools in the country to share his experience with the youths so that they too can become stars in future.
Minister Nalova Lyonga promised that his request will be granted. She preferred that the visit begins with schools in the South West Region. The Samuel Eo'o Foundation works for the training of youths to enable them meet their dreams.
Same category